---
To convert image to icon an icon conversion software is needed
Any to Icon is an easy and convenient icon converter for Windows.
Icon conversion using jpg to icon converter
With icon conversion tool, you can make icon by changing your PNG, XBM, WBMP, TIFF, TGA, PCX, GIF, BMP, JPEG, CUR, PCX.
You can purchase icon conversion tool to create icons from photos online, and convert image to icon through the paid online software tool downloads which will help you to get your desired icons of your choice. Using your icon convertor, you can use the jpg to icon converter to add folders, create icons, files from the IE to the other shells and can get the files and folders from others by dragging them and dropping them into your desired place.

To run this icon converter software, you will need the system requirement of Windows 98/ 200/ XP/ 2003/ vista and Pentium 233 MHz with the 5 MB storage capacity.

Supporting formats available with this jpg to icon converter software include JPG which is the JPEG JFIF image files, PCX which is the Zsoft publisher paint brush image, GIF which is the compu-serve graphics interchange format, CUR which is the windows cursor, XPM for x Pix map, WMF for Windows meta file, PNG which is the portable network graphics, ICO for windows icon, TIF for TIFF image, and some more supporting file formats like DLL, ICL, NIL, SCR, EXE, WBMP for wireless bit map etc are also included.

You can change the colour resolution of the files, create new files with your own customized thoughts, resize, paste bitmaps, convert into 256 colour, and you can even divide the icons from the icon libraries into various separate icons.

This JPG icon converter can convert image to icon with the help of command and wizard line interfaces and can process several files in a single shot.

You can get these icons in 3 different states like normal which will be in colour with less brightness, hot which will be in colour with more brightness and in disabled state which will be in black and white colour. This can clearly bookmark your application's current state like online, offline, idle, invisible, not available etc. you can get them all in varying size as well. You can get small icons, medium to large and extra large icons to place in your websites.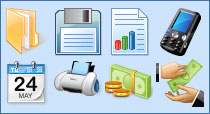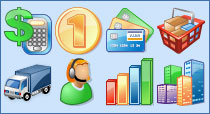 IconLover
is our pick. It allows you to design and edit all kinds of graphics required in the software development cycle, including icons, static and animated cursors and interface elements - all these graphics can now be designed in a single application.
Business Icon Set
will make your software and web products look more modern and attractive. File formats included into the set are Windows icons, GIF and PNG images.
ArtIcons Pro
is an advanced icon-specific utility for Windows. It supports ICO, BMP, PNG, GIF, PSD, XPM, XBM, WBMP, CUR and ANI image formats and allows you to manage icon libraries.

ArtCursors
allows you to find, create, edit, import and export cursors and manage cursor libraries. It supports static and animated cursors.
Any to Icon
converts icons and cursors into BMP, JPG, PNG, GIF, ICO, CUR and other formats. This wizard can find icons and make images for use on Web pages.