---
To convert picture to icon an icon converter is required
Any to Icon is an easy and convenient icon converter for Windows.
Change picture to icon and jpeg to icon using the icon converter
Picture to Icons are the cartoon images of the people or 2D images of various types of jpeg to icon pictures or symbols.

Icon converter can convert jpeg to icon or picture to icon with the help of command and wizard line interfaces and can process several files in a single shot. Icon converters are specially designed to make the users understand the icon meanings and functionalities. They will clearly express for what they are meant for. Thus they would help the users to keep them attentive on their subjects without getting off from their subjects. There are lots of websites who provide these jpeg to icon sets as free icon converter downloads.

There are home and shop icons like museum, store house, hangar, warehouse, garage, chemical plant, coal plant, cafe, retail shop, cinema, theatre, church, drugstore, college, school, hospital, temple, government, factory, atomic plant, municipal hospital etc. The picture to icons can be very useful for you if you run an online games website which has road routes.

For architectural or map projects or for the home and building based websites Home icons, window icons and Shop icons would greatly help. These images to icons clearly portrays the desired the home and building functional applications and would reduce your clients time in searching for an application in your website.

You can get large icons for toolbars like digital art, refresh icons, book, add, alarm, chart, back, copy, cut, paste, delete, dollar, credit card, close page, down, edit etc. These icons would clearly show off their desired functionalities with their symbols and 2D images. There are lots of collections which include icons like exchange, export, find, exit, black folder, yellow folder, function, help, hint, home page, image, import, language, left, list, lock, mail etc.

All these icons are available for you in variety of sizes, formats, shapes, designs and states. You can find 3 states of home icons like hot, disabled and normal. Normal is for available, present state, and hot is for super active state, disabled is for not available, offline, idle state. If you buy one you can get the icons with all the 3 states.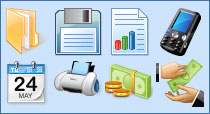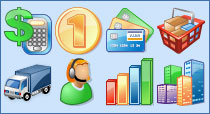 IconLover
is our pick. It allows you to design and edit all kinds of graphics required in the software development cycle, including icons, static and animated cursors and interface elements - all these graphics can now be designed in a single application.
Business Icon Set
will make your software and web products look more modern and attractive. File formats included into the set are Windows icons, GIF and PNG images.
ArtIcons Pro
is an advanced icon-specific utility for Windows. It supports ICO, BMP, PNG, GIF, PSD, XPM, XBM, WBMP, CUR and ANI image formats and allows you to manage icon libraries.

ArtCursors
allows you to find, create, edit, import and export cursors and manage cursor libraries. It supports static and animated cursors.
Any to Icon
converts icons and cursors into BMP, JPG, PNG, GIF, ICO, CUR and other formats. This wizard can find icons and make images for use on Web pages.