---
What are Windows Vista icons?
Vista Icons introduce a new style of iconography that brings a higher level of detail and sophistication to Windows imagery. First, the style of Windows Aero-style icons is more realistic than illustrative, but not quite photorealistic. The icons are symbolic images - they should look better than photorealistic. Second, icons have a maximum size of 256 x 256, making them suitable for high-DPI displays. These high-resolution icons allow for high visual quality in list views with large icons. Finally, wherever practical, fixed document icons are replaced by thumbnails of the content, making documents easier to identify and find. Thus, IconLover is a direct step to refining the visuals of your program and making it more communicative for users.

Microsoft recommends that your icon contains these four general sizes:


16x16 pixels

32x32 pixels

48x48 pixels

256x256 pixels




Windows Vista supports 32-bit icons, which are 24-bit images with an 8-bit alpha channel. This allows icons to display with smooth edges that appear to blend into any background.

Each Windows Vista icon should contain these three color depths to support different monitor display settings:


24-bit with 8-bit alpha (32-bit)
8-bit (256 colors) with 1-bit transparency
4-bit (16 colors) with 1-bit transparency

You should have a total of twelve image formats — four sizes per three color depths:
256 x 256 at 32-bit
48 x 48 at 32-bit
32 x 32 at 32-bit
16 x 16 at 32-bit
256 x 256 at 8-bit
48 x 48 at 8-bit
32 x 32 at 8-bit
16 x 16 at 8-bit
256 x 256 at 4-bit
48 x 48 at 4-bit
32 x 32 at 4-bit
16 x 16 at 4-bit

Icon designers recommend additional sizes: 24x24, 64x64 and 128x128.

A picture of a maximum size of 256 x 256 used as an icon is, in principle, supported by XP. But such an icon occupies 400Kb of disk space, far more than standard 25Kb of an XP icon. Aha-Soft has found a way to cast off these shackles: IconLover 4.0 uses advanced PNG compression to save images without losses and supports semitransparent images with an 8-bit alpha channel. That technology reduces the size of an icon only, maintaining the quality.

IconLover allows saving of icons with or without PNG compression. Download examples of Windows Vista icons here:


Vista icon with PNG compression
Vista icon without PNG compression

You can open these zip files directly from IconLover, which supports zip archives.



---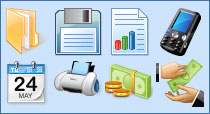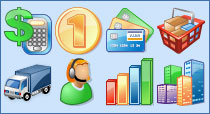 IconLover
is our pick. It allows you to design and edit all kinds of graphics required in the software development cycle, including icons, static and animated cursors and interface elements - all these graphics can now be designed in a single application.
Toolbar Icon Set
. A collection of practical and eye catching Windows icons representing all basic operations required for software development.
Business Icon Set
will make your software and web products look more modern and attractive. File formats included into the set are Windows icons, GIF and PNG images.
ArtIcons Pro
is an advanced icon-specific utility for Windows. It supports ICO, BMP, PNG, GIF, PSD, XPM, XBM, WBMP, CUR and ANI image formats and allows you to manage icon libraries.
Any to Icon
converts icons and cursors into BMP, JPG, PNG, GIF, ICO, CUR and other formats. This wizard can find icons and make images for use on Web pages.