IconLover is a convenient icon manager and creator
| | |
| --- | --- |
| Icon Manager | Are you tired of seeing regular windows icons on your computer screen? Here are hassle free guidelines on how to change these small graphical depictions and tips on websites from where you can buy interesting icons to build your personal icon folder.There are numerous websites that provide free icon sets. |
---
The Practical Applications of Windows Icons and the Places to Get Them?
Are you sick of noticing regular windows icons on your desktop? Here are simple instructions on how to alter these little graphical depictions and tips on websites from where you can buy interesting icons to make your personal icon collection.

Windows XP has made heavy use of internet graphics which is the obvious cause for its fame. The creative GUI or graphical user interface makes it easy for even the inexperienced user to supply data with considerable simplicity. If you need to access a file, all you need to do is click on the graphical depiction or the Windows icons on the monitor. You can also alter these windows icons to make the look of your desktop cater to your liking.

If you are questioning yourself why you should lift your fingers for modifying the images, the reply is very straight forward, computer users get sick of noticing the same images all the time and modifying the Windows icons can present a novel work environment for folks who work long hours on computers. This just means that selecting new icons can actually help to improve your work efficiency. If you have not thought about changing the icons on your computer screen in the past; here are a few simple guidelines that will make the process a breeze.


The primary step is to; of course, switch on the computer and let Windows load as it always does

When you are at the desktop, click on the start menu which will be at the lower right hand corner of the screen; this will bring up a menu, look for the tab "My computer" and click on it. Another way is to open the computer storage through a double click on the pictorial depiction of "my computer" on the computer screen; this is generally the topmost image on the monitor; however, you will only see it if it has been enabled on the desktop.

After this you have to look for the program related to the icon, this image has to be altered. You ought to have an idea about the position of the application in the computer or you could use the search option in the start menu to look for the file and pinpoint its exact placement

Where can you buy interesting icons? There are a myriad of websites that offer free icon libraries; as a matter of fact, many of these websites provide icons for varied professions. If you don't prefer the quality of the free stuff, windows icons are easily available at 'easy on the pocket' rates.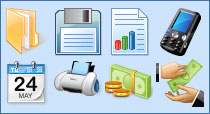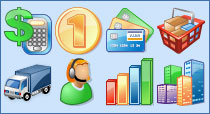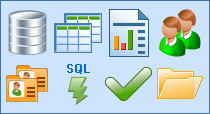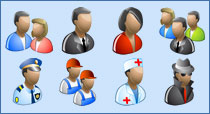 Business Icon Set
will make your software and web products look more modern and attractive. File formats included into the set are Windows icons, GIF and PNG images.
Any to Icon
converts icons and cursors into BMP, JPG, PNG, GIF, ICO, CUR and other formats. This wizard can find icons and make images for use on Web pages.