Add Creativity and Individualism to Your Website or Desktop at 777icons.com!
July 9, 2007
Aha-Soft has announced the price reduction for all icons at 777icons.com from $5 to $1 per each icon. 777icons.com is a real treasure-hold of hundreds of eye-catching and most creative icons. This website provides customers with various collections of icons of different themes and styles for toolbars and menus. All the icons are available for viewing and downloading and can be purchased either individually or in complete sets. It is also possible to order icons of your individual design. Icons are available with dimensions from 16x16 to 256x256 and in .png, .ico, .bmp and .gif formats. 777icons.com offers fast and efficient name search for icons.

Haven't you ever experienced a strong desire to put the grain of individualism into your desktop outlook? 777icons.com will definitely satisfy your soul! Varied icon collections will make your desktop and inner folder outlook as individual and creative as you are. Among tens of colorful icon collections dedicated to multimedia, transport, music, food, science, software, graphics etc. you will find icons, which will represent your lifestyle, favorite activities and character.

Hardly can any serious enterprise consider itself really prosperous these days without having a dedicated website. The individual website of the company and its general outlook give the first impression of the whole business. Choosing the right symbol and design for an icon can have a crucial impact on delivering the message of the image and purpose of your software and website. Therefore, people of business, for sure, will find interesting special "Business Icon Set", a collection of all-purpose icons with various symbols for the business environment, which will definitely draw attention of potential customers to your website.

New "Windows Toolbar Icons" will spice up your everyday Windows Vista experience. "Windows Toolbar Icons" is a full set of useful and eye-pleasing icons representing various toolbar operations required for browsing the internet or using various applications. All the icons are most carefully designed and look very realistic and vivid. For instance, when using the "Burn Dustbin" icon it is very difficult not to try and smell the burning. The simplest routine Windows operations will seem as most enjoyable activities with icons from 777icons.com!

In addition to icons this website has a large number of wonderful smiles, which will free you from the need to find the right words in order to express your emotions. Just get the right smile corresponding to your feelings and send it to the addressee. You will see that images can say more than words. And if you think that this person deserves something more unique than a ready icon from a collection, you may order an icon of your own design at 777icons.com or download and use IconLover, an application which enables users to design and edit all kinds of icons, as well as, static and animated cursors and other interface elements.

Pricing and Availability
Icons from 777icons.com are supported by all Windows OS and cost $4 (USD) or ˆ3 (EUR) per one icon. Special price of $3 (USD) per icon is available for group members. All icons can be purchased individually or in complete collections. You can find additional information on 777icons.com, as well as, view and download icons from http://www.777icons.com/index.htm.

About Aha-Soft
Founded in 2000, Aha-Soft specializes on image processing software for professional and amateur graphic artists. Aha-Soft is the author of such award-winning products as Any to Icon, icon and cursor format converter, ArtIcons and ArtCursors, icon and cursor editors. Aha-Soft's applications for cursor and icon editing and creation represent innovative software designs and set new standards. For more information, visit www.aha-soft.com.



###


Product page
www.777icons.com/iconlibs.htm

Buy link
www.777icons.com/reg.htm

Contact
Aha-Soft
Pacific Business Centre, Att: Aha-Soft #101 - 1001 W.
Broadway Suite 381, Vancouver, BC V6H 4E4, Canada.
Email: support
aha-soft.com
Web: http://www.aha-soft.com



Other press-releases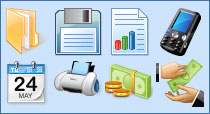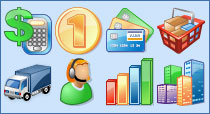 IconLover
is our pick. It allows you to design and edit all kinds of graphics required in the software development cycle, including icons, static and animated cursors and interface elements - all these graphics can now be designed in a single application.
Toolbar Icon Set
. A collection of practical and eye catching Windows icons representing all basic operations required for software development.
Business Icon Set
will make your software and web products look more modern and attractive. File formats included into the set are Windows icons, GIF and PNG images.
ArtIcons Pro
is an advanced icon-specific utility for Windows. It supports ICO, BMP, PNG, GIF, PSD, XPM, XBM, WBMP, CUR and ANI image formats and allows you to manage icon libraries.
Any to Icon
converts icons and cursors into BMP, JPG, PNG, GIF, ICO, CUR and other formats. This wizard can find icons and make images for use on Web pages.