Military Icon Set for Games, Web Sites, and Weapon Collector Portals


May 26, 2009

Vista Style Icons announces the release of Military Icon Set, a collection of royalty-free army icons depicting various objects and symbols used by game developers and Web designers. The set of military icons is available in many sizes and resolutions, with raster images supplied with every order and vector sources available for a fee.


About Military Icon Set

Military Icon Set offers a variety of military icons drawn in Windows Vista style. Supplying army icons such as Aim icon, Arrow icon, Maps icon, Dragon and Alert icons, the collection of military icons will make any strategic game, army-related product or weapon collectors Web site look slick, consistent and professional throughout. Designed in accordance with Microsoft guidelines for Windows Vista icons, Military Icon Set will not look out of place on the newest Vista PCs thanks to 32-bit icons with semi-transparency and large, 256x256 pixel versions available.

Technically, all army icons are provided in sizes of 16x16, 24x24, 32x32, 48x48, 128x128, and 256x256 pixels. 256-color and 32-bit True Color versions are supplied. All military icons are provided in GIF, PNG, BMP, and Windows ICO formats. Optional vector sources in 3DS Max format are available for a fee.

All military icons from the collection of army icons are available immediately with full online previews. Ordering Military Icon Set, developers and designers always know exactly what they are getting before placing an order. Military Icon Set is royalty-free, allowing Web designers, game and software developers to purchase a single copy of the collection of army icons and use the set to release as many games, products and Web sites as desired. Military Icon Set cost $29.95 for the entire set, with each army icon available separately for $1. More than a hundred army icons are available.

About Vista Style Icons

Vista Style Icons offers software developers and Web designers a great deal of readily available, royalty-free images drawn in Windows Vista style and in strict accordance with Microsoft's guidelines for Vista-style graphics.

###

Military Icon Set can be instantly previewed and purchased at vista-style-icons.com.

Postal address:
Pacific Business Centre,
Att: Aha-Soft, #101 - 1001 W. Broadway,
Suite 381, Vancouver, BC V6H 4E4, Canada
Fax and voice mail: +1 (206) 338-6423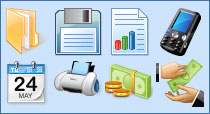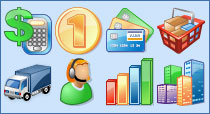 IconLover
is our pick. It allows you to design and edit all kinds of graphics required in the software development cycle, including icons, static and animated cursors and interface elements - all these graphics can now be designed in a single application.
Toolbar Icon Set
. A collection of practical and eye catching Windows icons representing all basic operations required for software development.
Business Icon Set
will make your software and web products look more modern and attractive. File formats included into the set are Windows icons, GIF and PNG images.
ArtIcons Pro
is an advanced icon-specific utility for Windows. It supports ICO, BMP, PNG, GIF, PSD, XPM, XBM, WBMP, CUR and ANI image formats and allows you to manage icon libraries.
Any to Icon
converts icons and cursors into BMP, JPG, PNG, GIF, ICO, CUR and other formats. This wizard can find icons and make images for use on Web pages.