Sketching Icons for Windows Vista Made Easier
March 4, 2008

Aha-Soft announces the update of IconLover, a handy tool to create and edit Windows icons and manage icon collection. The updated version makes it easier to sketch icons by allowing printing empty grids for easier sketching, or printing existing icons with a grid. Featuring enhanced support for 32-bit true color and 16-bit full color icons while generating standard-compliant Windows icons, IconLover has made yet another step to being an all-in-one solution for professional and amateur icon designers altogether.


Sketch, draw and modify icons easily with IconLover! Being an all-in-one solution for the professionals as well as amateur designers, IconLover offers an extensive feature set to anyone who designs, makes or collects Windows icons.

Professional icon designers will certainly appreciate the logical step-by-step approach to the icon creation process and meticulous care to every little detail. Used to pen and paper? IconLover will print you an empty grid to help you draw a sketch that is easy to transfer into digital. Feel cold when starting from a scratch? We'll help you by printing an existing icon into the grid!

By unlocking the various color and resolution options while remaining within the defined standards for the Windows ICO format, IconLover opens endless creative opportunities.

Are you using a heavyweight graphical editing suite for making your icons just because it can work with layers? IconLover supports the layers, too! Add, remove and blend elements into your icons, and maintain a comprehensive library of effects and modifiers such as arrows and cross-marks that are easy to apply to any icon when needed.

Designing an icon for Windows Vista? IconLover is ready to help! With the support of all the new formats and resolutions, IconLover is perfectly able to create and save an icon that will be compatible with Windows Vista and all earlier versions of Windows.

Are you an icon collector? IconLover helps you build and manage your collection by allowing extracting icons from executable files, DLLs, icon libraries and archives. Searching for icons on your computer and on the Internet makes IconLover a perfect tool for any serious collector.



###


System requirements
Windows 95/98/ME/2000/NT/XP/2003/Vista/7/8/10, Pentium-333 MHz, 8 MB Hard Disk, True Color video mode.

Product page
http://www.aha-soft.com/iconlover/index.htm

Download
http://www.aha-soft.com/downloads/iconlove.exe

Screenshots
http://www.aha-soft.com/iconlover/scr.png
http://www.aha-soft.com/iconlover/scrf.png

Buy link
http://www.aha-soft.com/iconlover/reg.htm

Contact
Aha-Soft
Pacific Business Centre, Att: Aha-Soft #101 - 1001 W.
Broadway Suite 381, Vancouver, BC V6H 4E4, Canada.
Email: support
aha-soft.com
Web: http://www.aha-soft.com



Other press-releases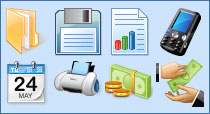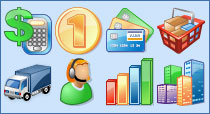 IconLover
is our pick. It allows you to design and edit all kinds of graphics required in the software development cycle, including icons, static and animated cursors and interface elements - all these graphics can now be designed in a single application.
Toolbar Icon Set
. A collection of practical and eye catching Windows icons representing all basic operations required for software development.
Business Icon Set
will make your software and web products look more modern and attractive. File formats included into the set are Windows icons, GIF and PNG images.
ArtIcons Pro
is an advanced icon-specific utility for Windows. It supports ICO, BMP, PNG, GIF, PSD, XPM, XBM, WBMP, CUR and ANI image formats and allows you to manage icon libraries.
Any to Icon
converts icons and cursors into BMP, JPG, PNG, GIF, ICO, CUR and other formats. This wizard can find icons and make images for use on Web pages.