---
App Bar Icon Pack for the Windows 8
August 31, 2012

Aha-Soft Releases Quality App Bar Icon Pack for the Windows 8

Aha-Soft has released a new icon pack for the Windows 8 App Bar. A new set of 1,000+ application bar styled icons combines the exact fulfillment of design requirements of the Windows Phone with professionally done graphics. The icon set includes all kinds of glyphs a designer can use in the app bar of any Windows 8 compatible application.




Since the release of Windows 8, applications running under this OS have no conventional menu bar any more. Instead, Windows 8 has introduced a brand new way of executing application specific commands - an app bar. The bar functions identically both on desktops and tablet PCs. When a user right-clicks an application screen, or swipes up or down to the screen edge, a bar with commands related to the current context is displayed. The minimalistic style of the icons in the app bar should provide better recognition and faster user operation thanks to minimum visual distractions.

Aha-Soft's brand new icon pack for the Windows 8 app bar combines the exact fulfillment of the Windows 8 design requirements with nicely and professionally done graphics. 1,075 icons of various categories cover almost anything a designer may need in his application. Documents, messages, styles, abstract icons, industry-specific signs, computer idioms and other terms are visually represented in clear, easily understandable glyphs. Perfectly centered 48x48 icons come in 12+ colors.

The icons suit both Windows 8 and the Windows Phone 7 and 8 operating systems. Coming in PNG format with the alpha channel, icons are 100% ready to be included into an application.

Pricing and availability

The price for the icon pack is $99.00 / 79.00 EUR. A free demo set is available for preview.

About Aha-Soft

Founded in 2000, Aha-Soft focuses on graphics and design applications and on professionally built icons and icon packs. Along with commercial graphic packages, the company offers royalty-free icon sets too. Custom design solutions are available on request.

###

Product page link:
http://www.aha-soft.com/stock-icons/windows-phone-8-icons.htm
Download link:
http://www.aha-soft.com/downloads/windows-phone-8-icons.zip

Contacts

Pacific Business Centre, Att: Aha-Soft #101 - 1001 W.
Broadway Suite 381, Vancouver, BC V6H 4E4, Canada.
Email: support
aha-soft.com
Web: http://www.aha-soft.com



Other press-releases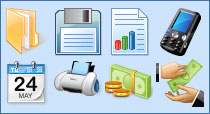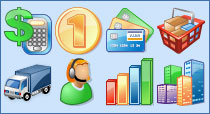 IconLover
is our pick. It allows you to design and edit all kinds of graphics required in the software development cycle, including icons, static and animated cursors and interface elements - all these graphics can now be designed in a single application.
Toolbar Icon Set
. A collection of practical and eye catching Windows icons representing all basic operations required for software development.
Business Icon Set
will make your software and web products look more modern and attractive. File formats included into the set are Windows icons, GIF and PNG images.
ArtIcons Pro
is an advanced icon-specific utility for Windows. It supports ICO, BMP, PNG, GIF, PSD, XPM, XBM, WBMP, CUR and ANI image formats and allows you to manage icon libraries.
Any to Icon
converts icons and cursors into BMP, JPG, PNG, GIF, ICO, CUR and other formats. This wizard can find icons and make images for use on Web pages.