Extracting icons from executables
How can I extract icons from an executable?

Each program usually has a shortcut image - an icon. If you liked the icon or, on the contrary, it requires immediate change, you need special software: icon editors and extractors. Such programs usually extract icons from executable EXE- and DLL-files and store them on the disk as ICO-files, allow you to replace one icon with another or store it into an ICO-file. But there are programs, which provide icon extractor, ability to replace icons in executables and even icon editor. Such editor may be more useful than "Photoshop" that is not intended for working with small pixel images.

As a matter of fact, the "IconLover" program can be considered a "Photoshop" analog for creating and editing icons. This is a full featured editor, which is intended especially for performing any operations with icons, including per-pixel editing and support for Windows XP icons. The program allows you to create icons of any desired size, up to 32-bit color depth including 8-bit alpha channel, consisting of several layers and having Windows XP style shadows. You can import/export and save file in the following formats: ICO, BMP, ICPR, JPG, PNG and more advanced PSD, WMF, XMP, XBM, WBMP, CUR, RC and ANI, and work with icon library files, ICL. Of course, "IconLover" can extract icons from executable files, static and animated cursors as well as modify icons in executable files.

The suite includes all features you need for working with icon files and icon libraries: search for icons on the disk and join them into libraries, drag icons from one library to another, drag subicons from one icon to another, sort icons in libraries and subicons in icons, copy, delete and paste icons, save icon libraries as single files, split icon libraries into separate icons and icons into subicons. And, finally, the program allows you to edit icons.

Software links:


IconLover
ArtIcons Pro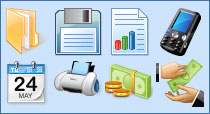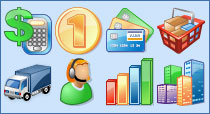 IconLover
is our pick. It allows you to design and edit all kinds of graphics required in the software development cycle, including icons, static and animated cursors and interface elements - all these graphics can now be designed in a single application.
Toolbar Icon Set
. A collection of practical and eye catching Windows icons representing all basic operations required for software development.
Business Icon Set
will make your software and web products look more modern and attractive. File formats included into the set are Windows icons, GIF and PNG images.
ArtIcons Pro
is an advanced icon-specific utility for Windows. It supports ICO, BMP, PNG, GIF, PSD, XPM, XBM, WBMP, CUR and ANI image formats and allows you to manage icon libraries.
Any to Icon
converts icons and cursors into BMP, JPG, PNG, GIF, ICO, CUR and other formats. This wizard can find icons and make images for use on Web pages.