Favicon: why do you need icons
Icons are one of easy ways to attract regular visitors to your website more often. They attract the attention of a bored surfer, which is rather good.

There are so many ways websites use trying to retain the visitors! They use newsletters, try to add themselves to Favorites, store cookies so that can congratulate a proud user with another visit of such a wonderful website. Guys from Microsoft implemented another idea: the ability to put a picture near the link in the address bar and Favorites. This picture is called an icon, or, more precisely, favicon and looks like that:




Why website traffic can increase if the website has an icon? Image the list of websites in Favorites. Or, better, invoke this list on your machine. If you browser supports icon, you will probably notice them near some links. They caught your eyes, didn't they? Since bored surfers often choose a website from Favorites, the probability of them noticing an icon instead of a plain link is higher. Therefore, the probability of them visiting your website is higher. Of course, this is true only if there are only few links with icons in Favorites. If all links have icons, there is not much use in having one.

Icons are supported by Internet Explorer 5+ and Mozilla 0.9.7+. The latter doesn't support them very well, so icons do not always appear in Favorites and once appeared they can disappear for no apparent reason. Inscrutable are Mozilla's ways. When the visitor adds a website to Favorites, Explorer looks for the favicon.ico file. If it finds it, it replaces the standard Windows icon to the one stored in the file.

The icon must be 16x16 pixels large. In reality, it can be 32x32 but there is a large probability that the browser will ignore such a large icon. In addition, it is better not to use more than 16 colors in the icon or it may lead to problems.

You can make an icon using two methods: draw it in any graphic editor, save as BMP or GIF and then convert to ICO. The converter can be found at http://www.sibcode.com. The second way is the IconXP editor from http://www.aha-soft.com.

You can save the icon as favicon.ico - Explorer looks for this file by default. However, if you want to have different icons for different pages, you can save them using any name (but the extension must be *.ico).

The icon is inserted as follows:

<LINK REL="SHORTCUT ICON" HREF="mypage.ico">

You can provide an absolute URL:

<LINK REL="SHORTCUT ICON"
HREF="http://www.mysite.com/img/ico/mypage.ico">

These were good things, now let's proceed to bugs and problems. First of all, not all hosters support *.ico files because system administrator are accustomed to disabling everything, which is not required for proper operation of the server.

Second, there are problems with testing. For example, you made an icon, put it to your website and added it to Favorites. And then you want to remake the icon. It is very likely that the icon already existing in Favorites won't change. Even if you erase the cache, delete the record from Favorites and restart the computer, after adding the website to Favorites, the icon may remain the same. Unfortunately, you can't do anything here and you will have to ask your friend who haven't visited your website yet to help.

Third, there is another serious problem. If the favicon.ico file has incorrect data, Explorer 5 may crash. The stack is overflowed with data and in theory it is possible to create an *.ico file with code, which will be executed on the client machine. There is no solution to this problem, so you'd better not add suspicious websites to Favorites.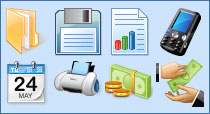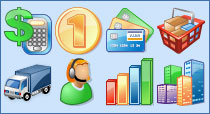 IconLover
is our pick. It allows you to design and edit all kinds of graphics required in the software development cycle, including icons, static and animated cursors and interface elements - all these graphics can now be designed in a single application.
Toolbar Icon Set
. A collection of practical and eye catching Windows icons representing all basic operations required for software development.
Business Icon Set
will make your software and web products look more modern and attractive. File formats included into the set are Windows icons, GIF and PNG images.
ArtIcons Pro
is an advanced icon-specific utility for Windows. It supports ICO, BMP, PNG, GIF, PSD, XPM, XBM, WBMP, CUR and ANI image formats and allows you to manage icon libraries.
Any to Icon
converts icons and cursors into BMP, JPG, PNG, GIF, ICO, CUR and other formats. This wizard can find icons and make images for use on Web pages.