Using Stock Icons in Your Project
Choosing the right set of stock images was not quick or easy. But you've made the choice, and have purchased the right set to use in your project. Now when you bought the icons, what are you going to do with them? Do you know what file format goes where, and what resolution, color depth or image style to use in your development environment for your application?

There are a few common questions asked by most developers. Where would I use 32-bit icons with alpha-channel, and why choose them over traditional 256-color icons? What development environment support 32-bit images, and what file formats should be used? Finally, which formats to use for the various control elements? Let's clear these questions one by one.

Choosing 32-bit icons over their 8-bit counterparts seems easy. 32-bit icons feature an extra layer defining a semi-transparency mask. This layer is called alpha channel. Thanks to the alpha channel, icons with 32-bit color depth can blend nicely with any background, featuring smooth edges and looking in place even if your background has a bright color, gradient, or shows an image or pattern. In addition, the alpha channel can make shadows and reflections appear translucent, making them look natural and overall rendering extremely realistic.

So, 32-bit icons are just the right type to use. The real question is whether you can use them for your project. In reality, 32-bit icons can be used in a handful of situations - and cannot be used in others. If you're making a Web site, then chances are that your target audience already has compatible Web browsers that can display 32-bit graphics with full alpha-channel support. Exceptions are far and between, and include Internet Explorer 6 and earlier versions, really old builds of Mozilla, and a few resource-stranded mobile platforms (although most mobile platforms can still display 32-bit images).

For a Web site, you would use 32-bit icons in PNG format. If supporting really old browsers is important, you can resort to 24-bit PNG icons, converting the original 32-bit images with an icon editing tool such as IconLover. 8-bit GIF files can be used for building light Web sites to be used with the slowest mobile platforms. Note that GIF files don't have a full alpha-channel support; instead, they feature a single-bit transparency mask. Again, you can render your 8-bit images from 32-bit originals with IconLover, or use pre-rendered icons supplied with your icon set. The GIF icons supplied will look fine on any background, but you can render your own versions if you have a bright, colourful background and want your images blend with it.

Windows applications can typically only use one particular type of file depending on what exactly you're going to use it for. For example, ICO files can be used for application icons. ICO files contain the same image (or, rarely, different images) in various sizes and color depths within a single file. Windows will automatically choose the right size and color depth depending on the user's display settings and the location of the icon. It's best to assemble all standard sizes and color resolutions in an ICO file. Our stock icons already have all standard resolutions and color versions stored in the ICO format; if you want to build your own ICO, you can use IconLover.

There are dozens of other things we'd love to tell you about using your newly purchased stock icons. You can access a full version of this article covering the many Windows controls and development environments such as Java, C#, .NET and Visual Studio, at www.aha-soft.com/faq/integrating-icons-development-environments.htm. You can always get the right icons for your application or Web site at www.aha-soft.com.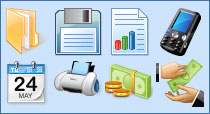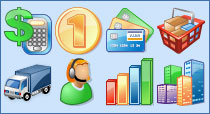 IconLover
is our pick. It allows you to design and edit all kinds of graphics required in the software development cycle, including icons, static and animated cursors and interface elements - all these graphics can now be designed in a single application.
Toolbar Icon Set
. A collection of practical and eye catching Windows icons representing all basic operations required for software development.
Business Icon Set
will make your software and web products look more modern and attractive. File formats included into the set are Windows icons, GIF and PNG images.
ArtIcons Pro
is an advanced icon-specific utility for Windows. It supports ICO, BMP, PNG, GIF, PSD, XPM, XBM, WBMP, CUR and ANI image formats and allows you to manage icon libraries.
Any to Icon
converts icons and cursors into BMP, JPG, PNG, GIF, ICO, CUR and other formats. This wizard can find icons and make images for use on Web pages.