Vector Images vs. Raster Images in HTML5
Both vector images and raster images are used in HTML5 web designing. Out of these two options, SVG files are associated with more advantages because they can be used in multiple locations without compromising the quality.

Before we compare the usage of vector images and raster images in HTML5, it is worth to get a better understanding about the characteristics of these two computer graphic types. Vector images are made out of simple geometric shapes such as lines and curves. These relationships are derived with the help of a mathematical equation. You can adjust the overall appearance of a vector graphic by making adjustments to this mathematical equation. Therefore, they do not lose the quality when making modifications to the image such as compressing and enlarging. Vector images are created with the assistance of vector drawing applications. Inkscape, Corel Draw and Adobe Illustrator are some of the most popular vector image drawing software that you can find in the present world. They are widely used to create images where quality is important. That's why many print work and logo designs are done with the assistance of vector graphics.






Raster graphics are quite different from vector graphics. They are made out of rectangular dots, which are also known as pixels. Each and every pixel is given a color value and all the color values are responsible for the overall appearance of a raster image. Raster images are resolution dependent. In other words, when you shrink a raster graphic file, some pixels will be lost. Once you enlarge it, those missing pixels will be interpolated with the assistance of nearby pixels. Therefore, there is a clear loss in the image quality, unlike in vector graphics. Raster graphics are outcomes of digital image capturing devices such as digital cameras. People can use applications such as Adobe Photoshop or GIMP in order to develop these graphics.

HTML5 is compatible with both raster and vector graphics. However, web developers prefer the usage of vector graphics because they can be used in different locations in different sizes throughout web pages. However, if the image file has a lot of details, it is quite difficult to express that in a mathematical equation. In such situations, the web designers have to seek the assistance of raster graphics. Since all the modern web browsers are compatible with HTML5, you can use either of them based on your needs and requirements without much hesitation.

To summarize, vector graphics or SVG graphics are ideal for the representation of tiny graphics that have less detail. That is, if you want to design a logo for a web page, using vector graphics is the most convenient option available out there. However, if you want to represent a photograph with high details, you can go for raster graphics. It is entirely up to the designer to choose the right tool when designing a web page with HTML5.

Can IconLover import SVG images into icons? Yes, if you have installed Inkscape.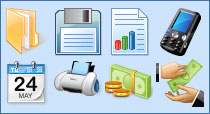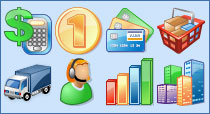 IconLover
is our pick. It allows you to design and edit all kinds of graphics required in the software development cycle, including icons, static and animated cursors and interface elements - all these graphics can now be designed in a single application.
Toolbar Icon Set
. A collection of practical and eye catching Windows icons representing all basic operations required for software development.
Business Icon Set
will make your software and web products look more modern and attractive. File formats included into the set are Windows icons, GIF and PNG images.
ArtIcons Pro
is an advanced icon-specific utility for Windows. It supports ICO, BMP, PNG, GIF, PSD, XPM, XBM, WBMP, CUR and ANI image formats and allows you to manage icon libraries.
Any to Icon
converts icons and cursors into BMP, JPG, PNG, GIF, ICO, CUR and other formats. This wizard can find icons and make images for use on Web pages.