Custom icon design
at affordable prices for developers and designers.
Free Retina Icon Set features:
Sizes: 20x20, 30x30, 40x40, 60x60
File formats: PNG, PSD
Colors: white, black
Background: transparent
Icon quantity: 60
Compatibility: iPad, iPhone, iPod
186 medical tab bar icons for iPhone & iPad
Application bar icons for Windows Phone 7 Series
604 stylish high resolution tab bar icons for iPhone, iPad, and iPod apps.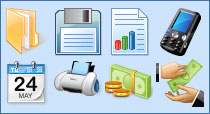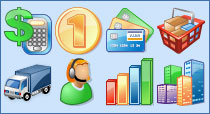 IconLover
is our pick. It allows you to design and edit all kinds of graphics required in the software development cycle, including icons, static and animated cursors and interface elements - all these graphics can now be designed in a single application.
Business Icon Set
will make your software and web products look more modern and attractive. File formats included into the set are Windows icons, GIF and PNG images.
ArtIcons Pro
is an advanced icon-specific utility for Windows. It supports ICO, BMP, PNG, GIF, PSD, XPM, XBM, WBMP, CUR and ANI image formats and allows you to manage icon libraries.
ArtCursors
allows you to find, create, edit, import and export cursors and manage cursor libraries. It supports static and animated cursors.
Any to Icon
converts icons and cursors into BMP, JPG, PNG, GIF, ICO, CUR and other formats. This wizard can find icons and make images for use on Web pages.