JPEG2000 was designed to overcome the limitations of the original JPEG standard and provide high-quality images at low bit-rates. In addition, JPEG2000 includes new features and functionalities for client/server imaging applications and resource constrained wireless devices.

JPEG2000: Advantages Over JPEG
Better image quality at the same file size
25-35% smaller file sizes at comparable image quality
Good image quality even at very high compression ratios, over 80:1
Low complexity option for devices with limited resources
Scalable image files -- no decompression needed for reformatting. With JPEG 2000, the image that best matches the target device can be extracted from a single compressed file on a server. Options include:
- Image sizes from thumbnail to full size
- Grayscale to full 3 channel color
- Low quality image to lossless (identical to original image)

Progressive rendering and transmission through a layered image file structure. Example: from a single 100 Kbyte image file of a 512x512 original image, a low resolution 32x32 pixel thumbnail image can be transmitted by sending only 10Kbytes. Sending an additional 15 KBytes increases the resolution to 64x64 pixels, and so on. Other layerings provide for progressive transmission and rendering based on quality, color component and spatial location in the image.
AhaView is a handy jpeg viewer and converter. It allows you to browse, view, organize and convert your jpeg and jpeg-2000 images.

With AhaView you can:
Browse jpeg and jpeg-2000 images in the thumbnail mode
View jpeg and jpeg-2000 images in the full-screen mode
Convert your jpeg and jpeg-2000 images to BMP, PNG, GIF formats
Convert your BMP, PNG, GIF files to JPG
Attach descriptions to jpeg files
Show a sequence of images as a slide show
Explore image properties
Copy images to the clipboard
Copy, move, duplicate and rename files
Use command line interface
Supported formats: System requirements: Windows 95/98/ME/2000/NT/XP/2003/Vista/7/8/10, 32 MB RAM, Pentium-133 MHz, 2 MB Hard Disk.

Trial limitations: 30-day trial period, nag screen.

Download:
exe
zip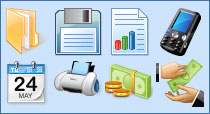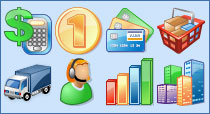 IconLover
is our pick. It allows you to design and edit all kinds of graphics required in the software development cycle, including icons, static and animated cursors and interface elements - all these graphics can now be designed in a single application.
Business Icon Set
will make your software and web products look more modern and attractive. File formats included into the set are Windows icons, GIF and PNG images.
ArtIcons Pro
is an advanced icon-specific utility for Windows. It supports ICO, BMP, PNG, GIF, PSD, XPM, XBM, WBMP, CUR and ANI image formats and allows you to manage icon libraries.

ArtCursors
allows you to find, create, edit, import and export cursors and manage cursor libraries. It supports static and animated cursors.
Any to Icon
converts icons and cursors into BMP, JPG, PNG, GIF, ICO, CUR and other formats. This wizard can find icons and make images for use on Web pages.