---
Any to Icon Pro version is available here
Any to Icon Pro allows you co convert any graphic files into icons in a wink of an eye.
Professional Toolbar Icons and Icon Sets, Search and Download Icons without Ordering Custom Software
Aha-Soft has developed a unique icon design conversion program. With Any to Icon, you can convert images, files, and folders with its premier icon converter. This is the perfect tool to enhance your toolbar or website.

Aha-Soft has developed a unique icon design conversion program. With Any to Icon, you can download icons, convert images, files, and folders with its premier icon converter. This is the perfect tool to enhance your toolbar or website. The icon converter facilitates a wide array of formats, including BMP, JPEG, TIFF, and a variety of other icon sets. With its simple interface, you can instantly manage icon sets for any function. They are available in assortment of colors, with simple to use tools and converter options. In addition, you can easily split icons into sub-categories and individual sets.

With this software, you can easily convert toolbar icons into libraries and packs. From image to icon design, your favorite utility or graphic can be integrated into toolbars. This will maximize your blog, forum or website. With png to icon, transfer your high resolution into stunning iconic formats. The jpeg to icon feature allows e-mail attachments and embedded files to easily be converted. The ability to search icons and customize designs is also included. You may transfer Windows files and folders, via drag and drop for your convenience. In addition, these files can be extracted from the clipboard or other fire shells. Any to Icon is truly one of the top icon converters on the market today.

From jpg to icon, you can design a true work of art. The image to icon tool enables broad conversion for multiple files and folders. From business forums to artistic sites, download icons that attract more visitors and business with stunning visuals. The application is equipped with command line interfaces. This makes it easy to process multiple files with one click. The result is a dashing line of icons that are compatible with any toolbar or database. You are also able to search icons at your convenience, while converting icon sets and vice-versa. This is a unique process, which allows virtually any format to be processed. The png to icon conversion mode is perfect for high end and large images. In addition, the icon packs support a vast repertoire of formats and files.

A great benefit of Any to Icon is the integration of other icon libraries. This feature allows other icon sets to be transferred and converted. It is a great tool to use, when a particular icon or image is located elsewhere. Simply download the icon and transfer it to the software. The program will convert it with quick delivery. From eye-catching Internet images to stock photos, you can turn them into captivating icons. The toolbar icons also work with your desktop, allowing instant file location and system navigation. You may use the icons in chat programs, social media platforms, and even for commercial web presence.

Aha-Soft has truly created an innovative icon program. With icons for all functions, you have the ability to liven up any toolbar setting. The icons are completely compatible with Windows, and are available in download packs for instant use. There is also a free trial to use the software, before deciding which icons will work best. For all your icons, symbols, objects, and prompts, go no further than Any to Icon, a true leader in the world of icon design.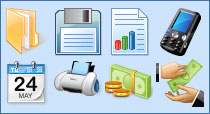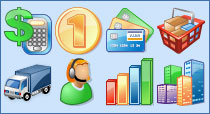 IconLover
is our pick. It allows you to design and edit all kinds of graphics required in the software development cycle, including icons, static and animated cursors and interface elements - all these graphics can now be designed in a single application.
Business Icon Set
will make your software and web products look more modern and attractive. File formats included into the set are Windows icons, GIF and PNG images.
ArtIcons Pro
is an advanced icon-specific utility for Windows. It supports ICO, BMP, PNG, GIF, PSD, XPM, XBM, WBMP, CUR and ANI image formats and allows you to manage icon libraries.

ArtCursors
allows you to find, create, edit, import and export cursors and manage cursor libraries. It supports static and animated cursors.
Any to Icon
converts icons and cursors into BMP, JPG, PNG, GIF, ICO, CUR and other formats. This wizard can find icons and make images for use on Web pages.