---
Any to Icon is the most convenient ICO converter around
You will need a special application, an ICO converter, to make an icon from an image file.
ICO Converter Helps You to Make Icons and Create Icons from Photo
Create icons from photo and find variety of icons designed with perfectly matched interface and using ICO converters.

The ICO converter would greatly help to get the icons of any functional applications of the desired field. Basic icons like folder, empty folder, card file, calculator, calendar, printer, cash register, phone, mobile, music, movie icons can be easily created with the ICO converter with varying colours and sizes.

You can purchase ICO converter and make icons, create icons from photos online through the paid online software tool downloads which will help you to get your desired icons of your choice. Using your icon convertor, you can convert JPG to icon, can add folders, create icons, files from the IE to the other shells and can get the files and folders from others by dragging them and dropping them into your desired place.

You can create and make icons or can convert your jpg files into icons like warehouse, garage, store house, chemical plant, coal plant, cafe, municipal hospital, atomic plant, cinema, retail shop, factory, theatre, college, school, hospital, church, drugstore, hangar, museum, temple, government etc. All these icons can be very useful for you if you run an online games website which have road routes and maps or any building needs website which would need all these book markings. You can convert your JPG files to Icons with the help of ICO converter. With ICO converter, you can make icon by changing your PNG, XBM, WBMP, TIFF, TGA, PCX, GIF, BMP, JPEG, CUR, PCX and TGA file formats as Icons. You can simply drag and drop the folders and files from windows and can add to the Icon files.

Icon library which contains stars like Aries, scorpio, sagittaius, libra, pisces, aquarius, caprcorn, leo, vigor, cancer, Taurus, etc can also be created by converting your jpg files into icons. Systems Icons like remove user, user logout, logout, exit, remove users, add users, ignore user, refresh, user login etc can be made with the opt images.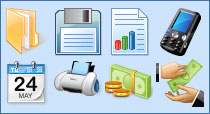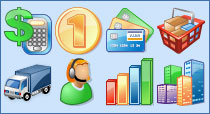 IconLover
is our pick. It allows you to design and edit all kinds of graphics required in the software development cycle, including icons, static and animated cursors and interface elements - all these graphics can now be designed in a single application.
Business Icon Set
will make your software and web products look more modern and attractive. File formats included into the set are Windows icons, GIF and PNG images.
ArtIcons Pro
is an advanced icon-specific utility for Windows. It supports ICO, BMP, PNG, GIF, PSD, XPM, XBM, WBMP, CUR and ANI image formats and allows you to manage icon libraries.

ArtCursors
allows you to find, create, edit, import and export cursors and manage cursor libraries. It supports static and animated cursors.
Any to Icon
converts icons and cursors into BMP, JPG, PNG, GIF, ICO, CUR and other formats. This wizard can find icons and make images for use on Web pages.