ArtIcons Pro - Icon Workshop for Asian Designers' Needs


March, 2006 - Aha-Soft, the developer of well-known graphic solutions for icon and cursor design, announces the release of the localized version of ArtIcons Pro 5.10 for the Japanese market.

ArtIcons Pro 5.10 is a professional icon and other small graphics editor for Windows that can free you from those omnipresent standard icons. Using the functionality that this software provides, you will be able to create your own original icons, static and animated mouse cursors, toolbars and other small graphics that will look so good as if you designed them for several days. ArtIcons Pro 5.10 provides new useful functionality: now you can import Macintosh icons into the Windows format and edit large icons compliant with the new Windows Vista standard.

You will completely implement your most audacious ideas in icon design, owing to the truly rich functionality of this creative editor. The most advanced tools of professional designers are at your service: brush, spray, text addition, palette, perspective grid, gradient fill, layer and background transparency editor and many others. In addition, you can freely experiment with the rotate, drop shadow, negative, smooth, transparency, contrast and other effects. After you have created an icon, you can easily convert it into any necessary format, for example ICO, GIF, BMP, JPEG, WBMP or PNG. ArtIcons Pro 5.10 has a built-in icon collection manager that allows quickly finding necessary objects in the built-in library and import icons from executable files with the ability to edit them later.

The extremely simple and convenient interface and tool tips will ease working with the editor as much as possible. The color palette, tools and effects bar, image scroll bars and preview window are located in the main window, thus allowing you to quickly find the necessary action and apply or undo it. Using this software, you will change the usual image of your desktop, folder shortcuts and cursor; create necessary and easy recognizable web page elements just in a few mouse clicks.

Key features of ArtIcons Pro 5.10:
Non-standard icons support;
Windows Vista support;
Importing Macintosh icons into the Windows format;
Support for importing and exporting a lot of various graphic formats;
Graphic editor supports layer;
Support for English, Japanese, Chinese, German and other interface languages.
Availability and Pricing
The ArtIcons Pro 5.10 software is developed for Microsoft Windows operating systems and costs $39.95 or 4700 yen. Registered customers are entitled to lifetime technical support and discounts on further updates. A 30-day fully-functional evaluation version of the program is available for free at http://www.aha-soft.com/downloads/aipro.exe.

Aha-Soft for Educators
Aha-Soft is dedicated to providing educational institutions with our cutting-edge products and technologies. In keeping with this mission, the company has introduced a special offer that will allow academic institutions to utilize ArtIcons 5.10 free of charge. This offer is available for university departments, academic departments and labs. Contact us today at http://www.aha-soft.com/support.htm.

About Aha-Soft
This privately owned company was founded in 2000 and is off to a phenomenal start, receiving high praise in its first years of operation from top Internet download sites including ZDNet, TuCows and Simply the Best. Aha-Soft manufactures advanced image processing software for professional and amateur graphic artists. Aha-Soft's line of icon and cursor tools features innovative software designs to set new standards. For more information, please visit http://www.aha-soft.com.

# # #

AN EVALUATION COPY IS AVAILABLE UPON REQUEST

Postal address:
Pacific Business Centre,
Att: Aha-Soft #101 - 1001 W.
Broadway Suite 381,
Vancouver, BC V6H 4E4, Canada.

Product page link: http://www.aha-soft.com/articons/index.htm
Download link: http://www.aha-soft.com/downloads/aipro.exe
E-mail: http://www.aha-soft.com/support.htm
Web: http://www.aha-soft.com


Other press-releases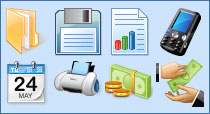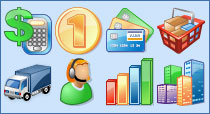 IconLover
is our pick. It allows you to design and edit all kinds of graphics required in the software development cycle, including icons, static and animated cursors and interface elements - all these graphics can now be designed in a single application.
Business Icon Set
will make your software and web products look more modern and attractive. File formats included into the set are Windows icons, GIF and PNG images.
ArtIcons Pro
is an advanced icon-specific utility for Windows. It supports ICO, BMP, PNG, GIF, PSD, XPM, XBM, WBMP, CUR and ANI image formats and allows you to manage icon libraries.

ArtCursors
allows you to find, create, edit, import and export cursors and manage cursor libraries. It supports static and animated cursors.
Any to Icon
converts icons and cursors into BMP, JPG, PNG, GIF, ICO, CUR and other formats. This wizard can find icons and make images for use on Web pages.