---
About Raster Graphics
August 1, 2014

In computer science, raster graphics, which is also known as bitmap format graphics contain a dot matrix data structure with rectangular pixels.

Computer graphics can be divided into two main categories as raster graphics and vector graphics. From this article, we are going to talk about raster graphics and explain it in detail. A bitmap image is a perfect example for a raster graphic, where the image is based on individual rectangular shaped pixels. These pixels are in different colors and shades, which result in the overall graphic outlook.

Raster graphics can be produced by digital image capturing devices such as digital cameras and scanners. They can also be developed with the assistance of pixel editing applications such as Adobe Photoshop. The rectangular pixels in a raster graphic image contain different color levels which are described as color, gray, white or black. Usually, they are saved in the computer with TIFF format. However, you can also save raster graphics in the EPS format.




Even though it is easy to convert vector graphics to raster graphics, it is not that easy to convert raster graphics into vector graphics. Since the pixels in raster graphics are shared between many platforms, it is not possible to edit them. Moreover, raster graphics are impacted through scaling.

Raster graphics or bitmap images are equipped with unique properties. Usually the pixels, which are also known as picture elements are small and they are not visible to the naked eye. If they become large, you will be able to see rectangular shapes on the screen, which can ruin the overall look. When considered in general, a computer monitor display has around 80 to 100 pixels per square inch. You can also control the number of pixel elements through screen settings.

Raster graphics are resolution dependent. Resolution, which is also known as the amount of pixels per inch is stated as dots per inch. Usually, the images that you can see on your computer screen has a resolution of 100pi. However, you need images with a large ppi value when printing bitmap images. For example, an average desktop printer needs images with at least 300dpi in order to deliver a high quality output. This is the reason why scanned images appear large on your computer screen.

Since raster graphics are resolution dependent, it is a hard task to decrease or increase their size without modifying the image quality. For example, if you want to reduce the size, you are commanding the photo editing software to throw away some pixels. But when you want to increase the image size at a later stage, you will not be able to achieve the same quality since some pixels have been thrown away. Therefore, the application should estimate colors from near pixels through interpolation, which is not that effective. However, raster graphics are ideal for everyone who wants to display images that are not 90% black.

Classic icon editors, such as IconLover, are optimized to work with raster graphics.




IconLover is an icon utility for making your own pictograms for any purpose.


Other press-releases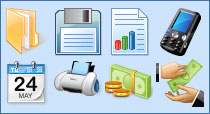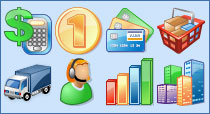 IconLover
is our pick. It allows you to design and edit all kinds of graphics required in the software development cycle, including icons, static and animated cursors and interface elements - all these graphics can now be designed in a single application.
Toolbar Icon Set
. A collection of practical and eye catching Windows icons representing all basic operations required for software development.
Business Icon Set
will make your software and web products look more modern and attractive. File formats included into the set are Windows icons, GIF and PNG images.
ArtIcons Pro
is an advanced icon-specific utility for Windows. It supports ICO, BMP, PNG, GIF, PSD, XPM, XBM, WBMP, CUR and ANI image formats and allows you to manage icon libraries.
Any to Icon
converts icons and cursors into BMP, JPG, PNG, GIF, ICO, CUR and other formats. This wizard can find icons and make images for use on Web pages.