Professional Stylish Icons Will Make Your Product A Number One
December 09, 2008

Want to have a strict, reserved and impressively stylish high-quality software interface? Then a beautiful set of professionally designed icons will do the trick!


About Basic Toolbar Icons

December 9, Krasnoyarsk, Russia: today Aha-Soft announces the release of Basic Toolbar Icons 2008.2 - a new version of a familiar pre-made set of interface icons specially designed to enhance the appearance of any modern application. Basic Toolbar Icons will give a professional pleasant look to your product and will help to spin the wheel of fortune to the top of commercial success.

The wonderful set of Basic Toolbar Icons contains dozens of strict, modern and stylish icons that will surely satisfy any user. The great variety of icons that match each other in style and color will add a final touch to any product. Specially created with magical hands of professional designers, all the icons are reserved and business-oriented so that neither of them will ever scare off serious clients. A broad set of actions and items covered by the icons will be sufficient for a typical toolbar of general-purpose application: Undo/Redo, Copy/Paste, Delete, About, Add, Save, Save As and Save All, and many other useful icons. The set is instantly available for preview.

All the symbols are easily recognizable, creating the intuitive interface that minimizes the learning curve. Besides, a user can choose any icon size to his or her liking, as they are available in 48x48, 32x32, 24x24, 20x20, and 16x16 versions, as well as in normal, disabled, and highlighted states with a large variety of resolution and color depth. Moreover, a user can choose between True Color and 256-color varieties. Additionally, all the icons are properly converted into ICO, GIF, PNG, and BMP formats, so that they can be used immediately. A special careful and strict design with prevalence of blue tinge will adorn the product and give it a nice corporative style.

Basic Toolbar saves time and money. Having purchased Basic Toolbar Icons, the customer will surely speed up the design process of his or her product and will not have to pay professional designers huge sums of money.

Pricing and availability

Basic Toolbar Icons 2008.2 runs on any version of 32-bit Windows including Windows Vista. The price of the product comprises 49.95 USD. A fully functional version of Basic Toolbar Icons can be ordered over the Internet using any major credit card or other payment method. The order page is located on a secure server, ensuring that the user's personal information remains confidential. As soon as the order is processed, a download link and a password for the archive will be displayed. In addition, all download information will be sent via e-mail. A customer can also buy individual icons to suit his or her needs. Each icon costs 5 USD for an individual purchase.

Download link: www.perfecticon.com/downloads/basic-toolbar-icons.zip

About Aha-Soft Aha-Soft is a developer of award-winning image processing software for the professional and amateur graphic artists. Aha-Soft's line of icon and cursor tools features innovative software designs to set new standards. This privately owned company, founded in 2000, is off to a phenomenal start, receiving high praise in its first year of operation from top Internet download sites including ZDNet, TuCows and Simply the Best.

For more information visit: www.aha-soft.com/index.htm



###


NOTE TO EDITORS:

Product web-page:
www.toolbar-icons.com/stock-icons/basic-toolbar-icons.htm
Company web-page: www.aha-soft.com/index.htm
Download link: www.perfecticon.com/downloads/basic-toolbar-icons.zip

Contact
Aha-Soft
P.O.BOX 17077
Krasnoyarsk, 660010
Russia

Fax: +1 (206) 338-6423
Email: support
aha-soft.com
Web: http://www.aha-soft.com



Other press-releases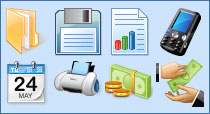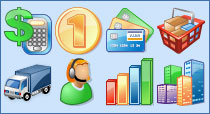 IconLover
is our pick. It allows you to design and edit all kinds of graphics required in the software development cycle, including icons, static and animated cursors and interface elements - all these graphics can now be designed in a single application.
Toolbar Icon Set
. A collection of practical and eye catching Windows icons representing all basic operations required for software development.
Business Icon Set
will make your software and web products look more modern and attractive. File formats included into the set are Windows icons, GIF and PNG images.
ArtIcons Pro
is an advanced icon-specific utility for Windows. It supports ICO, BMP, PNG, GIF, PSD, XPM, XBM, WBMP, CUR and ANI image formats and allows you to manage icon libraries.
Any to Icon
converts icons and cursors into BMP, JPG, PNG, GIF, ICO, CUR and other formats. This wizard can find icons and make images for use on Web pages.