Aha-Soft Presents Two Icon Collections for Bloggers
July 28, 2008

Aha-Soft presents two brand-new collections of ready-made icons for bloggers and forum owners, Blog Icons for Vista and Perfect Blog Icons. Both sets of perfectly matching icons are readily available for preview and immediate download at the company's Web site. Each set includes icons that are common for blogs, forums and online communities such as Edit, Blog, Upload, New File, Comment, Track Back, Hint, Key, and many more.


About Blog Icons for Vista

Blog Icons for Vista help bloggers create a contemporary-looking blog, and allow Web designers make perfect skins for blogs and forums. Each icon from the set is carefully crafted in the acclaimed Vista style with glowing glass effect and a matching palette. These slick, modern icons are a perfect and refreshing addition to contemporary blogs and Web sites designed to match the acclaimed Vista style. All icons from the set share common gamma and colors, and are available in all sizes from smallest to largest.

Blog Icons for Vista are offered in a set of 50 for a bargain price of $99, or are available separately at $1 apiece.

About Perfect Blog Icons

Perfect Blog Icons represent the true classics in blogging. Each shape is easily and immediately recognized by experienced bloggers and new visitors, making blog navigation a simple and intuitive experience. Perfect Blog Icons make your blog a comfortable place for posting, commenting and sharing opinions. Add the true classic look to your blog or forum with Perfect Blog Icons!

The entire set of 43 Perfect Blog Icons is available for only $49.95.

Technical Specifications From the technical perspective, every icon from each set comes in multiple states, resolutions and file formats. Each icon is supplied in all sizes of 16x16, 20x20, 24x24, 32x32, and 48x48 pixels, and comes in three states: normal, disabled, and highlighted. All icons are supplied in 256 colors and 32-bit True Color. The icons are available in Windows Icon (ICO), Bitmap (BMP), GIF, and PNG formats.

About Aha-Soft Founded in 2000, Aha-Soft designs custom and stock icons, toolbar images and small graphics for software developers and Web designers. The privately owned company manufactures award-winning image processing software for both professional and amateur artists and designers. The company's software tools for icon and cursor editing feature innovative software design to set new standards. Aha-Soft's software, products and services are well recognized among software and shareware developers.



###


Both new collections are available for immediate preview at http://www.777icons.com/libs/blog-vista-icons.htm
and
http://www.perfect-icons.com/stock-icons/perfect-blog-icons.htm respectively.

Contact
Aha-Soft
Pacific Business Centre, Att: Aha-Soft #101 - 1001 W.
Broadway Suite 381, Vancouver, BC V6H 4E4, Canada.
Email: support
aha-soft.com
Web: http://www.aha-soft.com



Other press-releases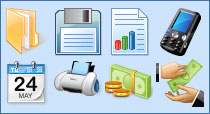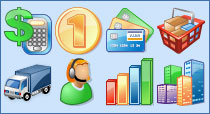 IconLover
is our pick. It allows you to design and edit all kinds of graphics required in the software development cycle, including icons, static and animated cursors and interface elements - all these graphics can now be designed in a single application.
Toolbar Icon Set
. A collection of practical and eye catching Windows icons representing all basic operations required for software development.
Business Icon Set
will make your software and web products look more modern and attractive. File formats included into the set are Windows icons, GIF and PNG images.
ArtIcons Pro
is an advanced icon-specific utility for Windows. It supports ICO, BMP, PNG, GIF, PSD, XPM, XBM, WBMP, CUR and ANI image formats and allows you to manage icon libraries.
Any to Icon
converts icons and cursors into BMP, JPG, PNG, GIF, ICO, CUR and other formats. This wizard can find icons and make images for use on Web pages.