More Than 777 Icons!
March 18, 2008
Aha-Soft announces the update of its collection of readily available stock icons. With the recent update, 777icons.com is a one-stop source of all icons a software developer or Web designer may ever need.
777icons.com offers literally hundreds of icons that depict various objects and concepts, drawn in different styles and grouped in numerous themes.

Need an icon to represent an action on a newly designed wizard? A new logotype for your site or software? A few toolbar buttons? Whatever you need for your Web site and software graphics, you've got it! 777icons.com packs a variety of sizes and formats with each icon you purchase, allowing you to use an icon as a bright logo, an illustration to a particular action of a wizard, as a part of a Web site navigation or application toolbar.

Save time on crafting or outsourcing icon design to freelance artists! Ready-made icons are available right here, right now. Each theme collection offered at 777icons.com is a matching set of icons that work perfectly well when used together. Matching color palettes, visual styles and drawing concepts allow you to choose a perfect style for your new site or software product. Want that modern hi-tech look that everyone is after? It's here, in the Hi-Tech section! Prefer a classic concept? The Classic icons are readily available. Want cartoon-like icons for a new game or entertainment application? The Cartoon icons are here as well, ready to enhance your new creation.

The professional style is what makes great products stand out of the crowd, but not everyone can afford to spend the time and money specifying hundreds of custom-made pieces of graphics. Just go to 777icons.com and browse the collections of icons to discover one that matches your style, and enhance your project with professionally designed graphics.

Windows Vista is all over the place today. Setting a new high in the quality of visual design, Windows Vista gives that unique look and feel to applications that are designed with the new guidelines in mind. Have you brought your apps in compliance with the new guidelines? 777icons.com offers numerous Vista-style icons to give your products the modern sleek look everyone expects of a new product. Don't be too retro with new software! Use 777icons.com to make it look stylish and modern!

About Aha-Soft
Aha-Soft was founded in 2000 and specializes in creation of icons and production of icon-related software. The company owns several successful icon-selling sites and created a number of popular utilities for icon editing, creation and management. For more information, please visit the company's site at http://www.aha-soft.com.



###


Product page
www.777icons.com

Buy link
www.777icons.com/reg.htm

Contact
Aha-Soft
Pacific Business Centre, Att: Aha-Soft #101 - 1001 W.
Broadway Suite 381, Vancouver, BC V6H 4E4, Canada.
Email: support
aha-soft.com
Web: http://www.aha-soft.com



Other press-releases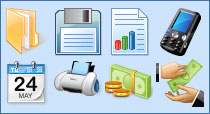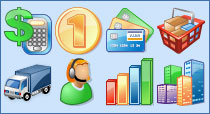 IconLover
is our pick. It allows you to design and edit all kinds of graphics required in the software development cycle, including icons, static and animated cursors and interface elements - all these graphics can now be designed in a single application.
Toolbar Icon Set
. A collection of practical and eye catching Windows icons representing all basic operations required for software development.
Business Icon Set
will make your software and web products look more modern and attractive. File formats included into the set are Windows icons, GIF and PNG images.
ArtIcons Pro
is an advanced icon-specific utility for Windows. It supports ICO, BMP, PNG, GIF, PSD, XPM, XBM, WBMP, CUR and ANI image formats and allows you to manage icon libraries.
Any to Icon
converts icons and cursors into BMP, JPG, PNG, GIF, ICO, CUR and other formats. This wizard can find icons and make images for use on Web pages.