2011. New Icon Sets.


January 27, 2011

Since the year of 2011 started, we have been working really hard to bring you the icons of top quality and ultimate style. You can see the results of our work here, just look through the list of the icon sets we have released or updated.

Database Icon Set includes 177 icons for use in various database products, including software applications, information web sites and presentations. The icons are available in 16x16, 24x24, 32x32, 48x48, 256x256 and 512x512 sizes. The icons come in two color variants: 256 colors and True Color with semi-transparency. They also have several file formats, such as ICO, PNG, GIF and BMP. This icon set was totally redesigned.


Database Icon Set

Glossy Menu Icons is a huge icon collection. It contains over 750 unique icons and over 9500 of their files in 4 image formats (PNG, GIF, BMP, ICO) and sizes (48x48, 32x32, 24x24, 20x20, 16x16). This mega set addresses a broad range of popular topics: from Internet browsing and programming to social networks and logistics. All icons have a transparent background and come in 3 state variations (normal, hot and disabled), which enables you to create dynamic menus without even starting a graphic editor.


Glossy Menu Icons

You can view updated Perfect Business Icons, Perfect Bank Icons, Perfect Computer Icons, Perfect Internet Icons, Perfect Time Icons, Perfect User Icons, Perfect Toolbar Icons, Perfect CMS Icons, Perfect Science Icons, Perfect Design Icons, Perfect Warehouse Icons at http://www.perfect-icons.com. These icon sets are included into All Perfect Icons Bundle which contains 29 icon sets and 5000 icons.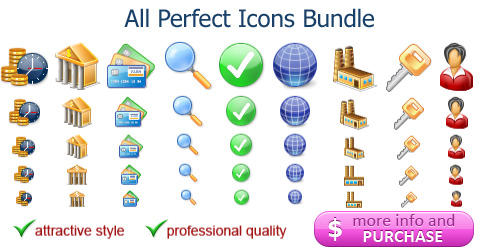 All Perfect Icons Bundle



Military Icon Set is available in resolutions of 16x16, 24x24, 32x32, 48x48, 128x128, and 256x256 pixels and in 256 colors or True Color variants, icons from the Military Icon Set can be used in toolbars, dialogs, navigation elements, or as logotypes. All images come as PNG, GIF, ICO, and BMP files with 3DS Max vector sources available for an extra fee. The set of army icons costs 99.95. Single images are available for $1 (1 EUR) each.


Military Icon Set

You can use 15% discount coupone N11JAN to purchase above icon sets.

And some gifts:)

Free Large Twitter Icons contains a variety of famous Twitter bird and sign images.


Free Large Twitter Icons

Free Social Media Icons library is offered as a number of ICO, PNG and BMP files in resolutions of 512*512, 256*256, 48*48, 32*32, 24*24, and 16*16 pixels.


Free Social Media Icons

Free Large Torrent Icons present you a variety of file-sharing related images and symbols. The collection includes icons for Pirate bay, Utorrent, Virus, Adult content, Donkey, Copyright and more. The icons contain sizes 16x16, 24x24, 32x32, 48x48 and 256x256 pixels. 32-bit color scheme is used, making the set compatible with Windows XP and Windows Vista. PNG images in the size of 512x512 are also included in the archive.


Free Large Torrent Icons



Postal address:
Pacific Business Centre,
Att: Aha-Soft, #101 - 1001 W. Broadway,
Suite 381, Vancouver, BC V6H 4E4, Canada
Fax and voice mail: +1 (206) 338-6423


---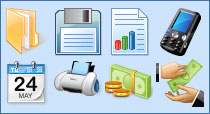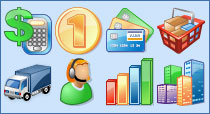 IconLover
is our pick. It allows you to design and edit all kinds of graphics required in the software development cycle, including icons, static and animated cursors and interface elements - all these graphics can now be designed in a single application.
Toolbar Icon Set
. A collection of practical and eye catching Windows icons representing all basic operations required for software development.
Business Icon Set
will make your software and web products look more modern and attractive. File formats included into the set are Windows icons, GIF and PNG images.
ArtIcons Pro
is an advanced icon-specific utility for Windows. It supports ICO, BMP, PNG, GIF, PSD, XPM, XBM, WBMP, CUR and ANI image formats and allows you to manage icon libraries.
Any to Icon
converts icons and cursors into BMP, JPG, PNG, GIF, ICO, CUR and other formats. This wizard can find icons and make images for use on Web pages.