Aha-Soft Releases Perfect Automation Icons
February 22, 2011

Now there is no longer any need to spend time searching for icons or creating them from scratch when designing software application interfaces.



Aha-Soft, a software product company established in 2000, is proud to announce the release of Perfect Automation Icons which is a collection of professional quality icons for software that is designed to provide automated processes. Perfect Automation Icons offer end users versatility and variety that helps to save time with software design.

Perfect Automation Icons is a brand new collection of bright, professional looking icons that can be used to add a refined finish to any software application user interface. Perfect Automation Icons include a wide variety of different icons in three display formats which include normal, disabled, and highlighted.

Normal format icons are standard icons that are used to indicate an enabled feature in a software application interface. Disabled icons are used to display a specific feature or functionality which is temporarily unavailable. Highlighted icons are used to indicate focus or an action on a specific function in the software application interface.

Perfect Automation Icons are provided in a variety of professional quality display resolutions which include 16x16, 20x20, 24x24, 32x32, and 48x48 pixels. Each icon is designed for the specific display resolution which provides an unmatched quality icon for the end users of the software application. The icons are also available in four major formats including ICO, PNG, GIF and BMP and two color variations consisting of 8-bit and 32-bit with an alpha channel. This makes it possible to start using the icons in a live application right "out of the box" with minimal of no modifications at all.

Perfect Automation Icons is a set of 176 carefully designed high-quality icons covering a wide range of topics. Careful design means that Aha-Soft has focused on creating a user friendly interaction between the end user and the software application interface. Although the icons are intended mostly for content management systems of all varieties, they are an excellent choice for software applications that provide automated processes and have a complex user interface. For example, the automated processes may involve house illumination, energy consumption, or controlled access to a home.

In many instances it can be quite costly to outsource the making of icons to graphic designers who command a hefty fee to create unique icons for software applications. The downside of this is that there is risk involved with not getting the icons drawn to specs and other problems and it is important to choose carefully if you decide to pursue this option. On the other hand, many of the ready made icons are inferior in quality and are not offered in the variety of resolutions and formats that are needed to make them work for a software application.

With Perfect Automation Icons, the opportunity to use professional quality stock icons in a diverse variety saves software designers time and money and spares the hassles associated with receiving a less than desirable result. By using Perfect Automation Icons this also eliminates concerns with royalties, copyrights, and the risk of having your icons look like those on other software applications on the market.

Most software developers must devote a significant amount of time on the application interface to ensure that they use the best icons that are appropriate for the functions of the application interface. Perfect Automation Icons are not only cost effective but they are also as striking and professional as custom made graphics. Additionally, all of the icons can be used to easily and quickly create your own icon library that will be at your disposal whenever you need graphics for your software applications.

###

About Aha-Soft

Aha-Soft is a commercial graphics company that specializes in the design and production of professional-quality icons and small graphics. These are delivered in a variety of collections or individual icon sets for royalty-free distribution on websites or embedded delivery within applications for Windows, MacOS, or Linux platforms and even for mobile applications on the iPhone or Android devices.

Founded in 2000, the company also specializes in development of icon editing software and design of royalty-free, readily available stock icons. The company owns several successful stock icon sites and offers a number of popular icon editing tools. Aha-Soft provides custom design services for icons and logotypes, and offers a number of royalty-free stock icons available to software and Web developers. For more information you can visit the company's site at aha-soft.com.


---
Colour Your Own Screens Considering the Brand New Microsoft Windows Designs
Screens play a prominent part in increasing the functionality plus look and feel. Proceed a pace more deeply with the help of up to date icons available here and make your applications entertaining to utilize and uncomplicated to navigate, by using assistance from a couple of wisely produced visuals to use by means of this website.

A specific MR. Fred R Barnard inside a diary in 1921 stated a number of phrases, "a picture is worth a thousand words", perhaps he could n't have recognized the particular importance of the key phrases after that, or maybe he did, as way more than 90 years immediately after making this specific announcement we try to find an increasing number of solutions to use it. Barnard could have said it when touching on the exact potential of graphic commercials, however a couple of decade's back this found their way into the world of computer programming together with the coming of Graphic screens the moment artwork and symbols exchanged composing complicated command-line justifications.

Employing very simple, easy to understand designs could go far straight into making the life of an person less complicated. Through getting these types of symbols not only do you help to make it less difficult for you to find their way, it really makes all the interface more pleasing.

You may get the hands on more than seven-hundred these types of symbols over here, all of them at a cost of ninety nine us dollars. The style is available at a size corresponding to a sq . of 48 pixels that have a see-through background and a pic of twenty six by 26 pixels in the center. a majority of these images compatible with all your MS Windows 8 plus MS Windows phone apps come in the PNG file format and come in any of 14 different colorings between the usual blue, red as well as green to the more distinctive deep blue along with light-red, and may even be taken without or with the encompassing circles. Customize each and every page on your pc with the aid of these professionally designed designs plus go ahead and take drive utilisation to a totally new level; it is possible to replace icons for any normal functions like redo, undo, back, refresh etc. along with all of these aesthetically desirable images. Along with the usual kinds, you get to choose through a whole lot off distinctly intended images that you'll have some fun determining features to, you've got a cardiologist image, the motor man symbol, a private eye image, an auditor symbol and probably the best angel image.

These types of icons, as I have already stated, are available in an entirely deployable kind, you will get your hands on them once you make the deposit and you then have the freedom make use of all of them in each of the possible methods. A captivating interface can make hours at work seem to be way easier along with helps you save through becoming tired at your inner levels by prying those intensive series of instructions. Easy routing, desirable user interface in addition to good operation lie at the heart of each application, with the aid of this specific pack you have the interface along with the routing part dealt with, the only issue that is definitely preventing you against creating a cutting edge app is you. Acquire a majority of these designs now and then revitalise the whole encoding experience.


---
Other press-releases
---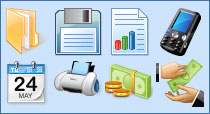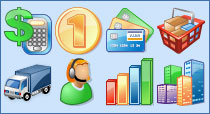 IconLover
is our pick. It allows you to design and edit all kinds of graphics required in the software development cycle, including icons, static and animated cursors and interface elements - all these graphics can now be designed in a single application.
Toolbar Icon Set
. A collection of practical and eye catching Windows icons representing all basic operations required for software development.
Business Icon Set
will make your software and web products look more modern and attractive. File formats included into the set are Windows icons, GIF and PNG images.
ArtIcons Pro
is an advanced icon-specific utility for Windows. It supports ICO, BMP, PNG, GIF, PSD, XPM, XBM, WBMP, CUR and ANI image formats and allows you to manage icon libraries.
Any to Icon
converts icons and cursors into BMP, JPG, PNG, GIF, ICO, CUR and other formats. This wizard can find icons and make images for use on Web pages.