Use Perfect Icons Bundle To Brighten Your User Interface


December 15, 2010: Aha-Soft is proud to announce the release of the Perfect Icons Bundle, a collection of bright, professional icons that can be used to add clarity to any web page or application user interface. The Perfect Icons Bundle includes a number of related collections of icons in three display formats: Normal, Hot, and Disabled. Normal format icons are standard icons that would be used to indicate an enabled feature in a user interface. Hot format icons are slightly highlighted, and can be used to indicate focus or a mouse-click on a specific element in your user interface. Disabled icons are used when you would like to indicate to your users that a specific feature or piece of functionality is temporarily unavailable. Each of the available icons are provided in a variety of popular display resolutions, including: 16x16, 20x20, 24x24, 32x32, and 48x48, with each icon individually designed for each resolution in order to provide an optimal experience for your end users. The Perfect Icons Bundle provides a variety of collections designed to meet the needs of a wide variety of applications. These collections include the following:
Perfect CMS - a set of icons intended to be utilized by content management system (CMS) implementations. Examples of icons included in this collection are icons for reports, charts, document save and retrieval options, user and group security, and social networking integration.
Perfect Toolbar - this set of icons would typically be used to highlight toolbar functionality such as those found in a wide variety of applications. Icons in this collection include directional navigation icons, document editing functions such as cut/copy/paste, and device icons such as cameras, printers, and PDAs.
Perfect Mobile - the Mobile set of icons includes 133 unique icons, specifically designed to denote user interface metaphors commonly used for mobile devices, or within mobile applications. Examples of icons in this collection include cell phones, ring tones, signal strength indicators, battery strength indicators, and messaging icons.
Perfect Blog - this collection includes 68 individual images that are commonly found on popular blog editor and display pages.
Perfect Web - the icons in this collection include 276 icons specifically designed to meet the needs of web developers and site designers. Examples of icons provided in the Web collection include e-commerce images as well as a number of icons designed to communicate common operations found on most web sites.
This incredible bundle also includes a host of other icons designed to meet the needs of virtually every conceivable application. Additional collections included with this bundle include database, download, network, web, security, and computer hardware icons. Each collection in the bundle includes at least 50 icons, some with nearly 500 so any developer or designer can rest assured that there is an icon set to meet their needs.
About the Company
Aha-Soft is a commercial graphics company that specializes in the design and production of professional-quality icons and small graphics. These are delivered in a variety of collections or individual icon sets for royalty-free distribution on web sites or embedded delivery within applications for Windows, MacOS, or Linux platforms and even for mobile applications on the iPhone or Android devices. In addition to these packages, Aha-Soft also provides custom design services for its clients. Aha-Soft can be reached at:

Pacific Business Centre,
Att: IconEmpire, #101 - 1001 W. Broadway,
Suite 381, Vancouver, BC V6H 4E4, Canada
Fax and voice mail: +1 (206) 338-6423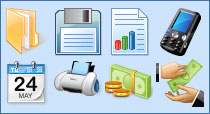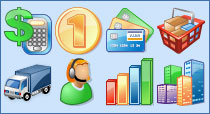 IconLover
is our pick. It allows you to design and edit all kinds of graphics required in the software development cycle, including icons, static and animated cursors and interface elements - all these graphics can now be designed in a single application.
Toolbar Icon Set
. A collection of practical and eye catching Windows icons representing all basic operations required for software development.
Business Icon Set
will make your software and web products look more modern and attractive. File formats included into the set are Windows icons, GIF and PNG images.
ArtIcons Pro
is an advanced icon-specific utility for Windows. It supports ICO, BMP, PNG, GIF, PSD, XPM, XBM, WBMP, CUR and ANI image formats and allows you to manage icon libraries.
Any to Icon
converts icons and cursors into BMP, JPG, PNG, GIF, ICO, CUR and other formats. This wizard can find icons and make images for use on Web pages.