Give Style & Class to Your Interface!
People like beautiful interfaces where features are "up front" and "in their face". New stock icon collections from Aha-Soft make them that way.

October, 2006

Aha-Soft has announced the immediate availability of new Icon Collections. These icon sets offer hundreds of sleek, rich-colored icons that can help developers create an engaging and intuitive interface for their applications and sites. Icon sets include such categories as Business, Toolbar, Database, Money, E-mail, Graphic, Transport, and Security with many more on the way. Icons come in a variety of formats and sizes and distributed on a royalty-free basis from www.aha-soft.com/iconlibs.htm.




People like interfaces where features are easily exposed so that a quick look can determine what this or that icon actually does. The eye-candy factor must also be up. Icon Collections from Aha-Soft provide this competitive edge. Not only are they nice to look at, they are also intuitive, making a user recognize their meaning at a quick glance. Artists at Aha-Soft have put much care into each icon, as a result they all look carefully done. You will enjoy their bright palette, smooth and well-rounded edges. Icons are delivered in a variety of formats, such as ICO, PNG, GIF, BMP and such sizes as 16x16, 24x24, 32x32 and 48x48. They are available in 256 colors and in True Color with semi-transparency. What's more, icon formats for Windows Vista are also available with 256x256 size. Icons are so many that anyone can find something for themselves. However Aha-Soft can custom-design icons if you have some special requirements or can't find what you need in available collections.

Pricing and availability
Icon Collections run under Microsoft Windows 98/NT/Me/XP/Vista and start at $59 (USD) for a set. Additional information on Icon Collections is available from www.aha-soft.com/iconlibs.htm.

About Aha-Soft
Founded in 2000, Aha-Soft is an Information Technology company specializing in professional icon and cursor design and management software. Aha-Soft is the author of such popular tools as AhaView, Any to Icon, Icon to Any, ArtCursors, ArtIcons, ArtIcons Pro, IconLover, IconUtils and IconXP. If you would like to get a comment, request a reviewer copy, have a businesses proposal, want to become an authorized reseller or have any other inquiry, please visit the company's web site at www.aha-soft.com.



###


Product page
www.aha-soft.com/iconlibs.htm

Download
www.aha-soft.com/iconlibs.htm

Buy link
www.aha-soft.com/reg.htm

Contact
Aha-Soft
Pacific Business Centre, Att: Aha-Soft #101 - 1001 W.
Broadway Suite 381, Vancouver, BC V6H 4E4, Canada.
Email: support
aha-soft.com
Web: http://www.aha-soft.com



Other press-releases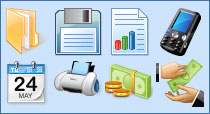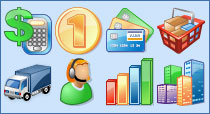 IconLover
is our pick. It allows you to design and edit all kinds of graphics required in the software development cycle, including icons, static and animated cursors and interface elements - all these graphics can now be designed in a single application.
Toolbar Icon Set
. A collection of practical and eye catching Windows icons representing all basic operations required for software development.
Business Icon Set
will make your software and web products look more modern and attractive. File formats included into the set are Windows icons, GIF and PNG images.
ArtIcons Pro
is an advanced icon-specific utility for Windows. It supports ICO, BMP, PNG, GIF, PSD, XPM, XBM, WBMP, CUR and ANI image formats and allows you to manage icon libraries.
Any to Icon
converts icons and cursors into BMP, JPG, PNG, GIF, ICO, CUR and other formats. This wizard can find icons and make images for use on Web pages.