Easy Icon Creation and Management with ArtIcons
Krasnoyarsk, Russia - January, 2001 - Russian-based software developer Aha-Soft this month announced the release of its latest software creation, ArtIcons. This icon-specific utility allows professional and amateur graphic artists alike to create and edit icon images and manage icon files and libraries.

Designed specifically for all-around icon management, ArtIcons offers production features that can't be found in standard graphics applications. The application allows users to scan files and folders for icons, delete duplicate icons and arrange icons into libraries using drag and drop.

Artists can import icons directly from image and library files, cursor files and even executables. Icons can be manipulated in standard or custom sizes, in color depths up to 16 million colors.

ArtIcons comes with all the standard paint tools, including spray can, pencil, brush, flood fill, text and line tools, gradient and chess fills and more. Imports and exports can be performed with many file types, including .ico, .ani, .cur, .wmf, .emf, .bmp, .jpg, .gif and .png files.

Aha-Soft, based in Krasnoyarsk, Russia (central Siberia), is a relatively new entry into a crowded field of software developers (Aha-Soft launched in 2000). The company is off to a phenomenal start, however, and has received high praise from the top software download sites on the Internet.

Labeling ArtIcons a "must download," PC Magazine's ZDNet awarded the application five stars, their highest rating. WebAttack.com awarded ArtIcons "Editor's Pick Gold." Says WebAttack, "Only a small percentage of products receive this award."

Filedudes.com also awarded ArtIcons its highest rating, saying that files receiving this rating, "provide advanced features not found on similar products…. These are must downloads."

ArtIcons can be purchased online for $19.95. For more information or to download a thirty-day trial version, visit the Aha-Soft Web site at
www.aha-soft.com/download.htm.

Other programs for sale from Aha-Soft include ArtCursors, a cursor creation, editing and management tool, and Icon to Any, a utility specifically designed for converting icons and cursors into BMP, GIF, JPEG and other file formats.


Other press-releases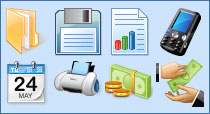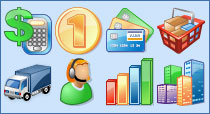 IconLover
is our pick. It allows you to design and edit all kinds of graphics required in the software development cycle, including icons, static and animated cursors and interface elements - all these graphics can now be designed in a single application.
Toolbar Icon Set
. A collection of practical and eye catching Windows icons representing all basic operations required for software development.
Business Icon Set
will make your software and web products look more modern and attractive. File formats included into the set are Windows icons, GIF and PNG images.
ArtIcons Pro
is an advanced icon-specific utility for Windows. It supports ICO, BMP, PNG, GIF, PSD, XPM, XBM, WBMP, CUR and ANI image formats and allows you to manage icon libraries.
Any to Icon
converts icons and cursors into BMP, JPG, PNG, GIF, ICO, CUR and other formats. This wizard can find icons and make images for use on Web pages.