Software Developer's Icon and Cursor Utilities Ease the Workload for Fellow Programmers and Developers
Aha-Soft Headquarters - March, 2001 - Software developer Aha-Soft says it is on a mission to ease the time crunch faced by software developers all across the planet, from one-man basement operations to giants like Sun and Microsoft.

To this end, Aha-Soft has developed a series of software products specifically designed to minimize the time developers spend creating the icons, cursors and small images that are used in program development and eventually by end users.

"Few software companies think of icons as a major part of their software development," says a representative from Aha-Soft. "But show me a successful software product that doesn't use icons.

"The truth is, icon creation is a time-consuming task that most companies put a great deal of time and thought into. Icons become a major identifying characteristic of a company's products, as much or more so than a company's corporate logo.

"Look at Microsoft. Everybody recognizes the icons for Internet Explorer, Word and Outlook, but how many people know what Microsoft's corporate logo looks like?"

Aha-Soft's best-selling title is ArtIcons, a timesaving utility that allows professionals and amateurs alike to create and edit icon images and manage icon files and libraries. ArtIcons offers icon production features that can't be found in standard graphics applications.

The application scans files and folders for icons, deletes duplicate icons and arranges icons into libraries using drag and drop. Users can import icons directly from image or library files, cursor files and even executables. Icons can be manipulated in standard or custom sizes, in up to 16 million colors. ArtIcons features standard paint tools, including spray can, text and line tools, and flood, gradient and chess fills.

Another Aha-Soft tool made to benefit developers is ArtCursors, a tool with functions similar to ArtIcons but specifically designed for creating and editing cursors. Aha-Soft also makes two handy conversion utilities, Icon to Any, a utility specifically designed for converting icons and cursors into image files, and Any to Icon, which converts image files into icons.

Aha-Soft is off to a phenomenal start, receiving high praise in its first year of operation from top Internet download sites, including ZDNet, WebAttack.com and Filedudes.com.

For more information on Aha-Soft products or to download a thirty-day trial version of any title, visit the Aha-Soft Web site at www.aha-soft.com.


Other press-releases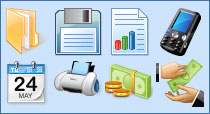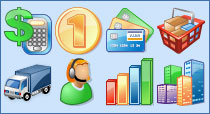 IconLover
is our pick. It allows you to design and edit all kinds of graphics required in the software development cycle, including icons, static and animated cursors and interface elements - all these graphics can now be designed in a single application.
Toolbar Icon Set
. A collection of practical and eye catching Windows icons representing all basic operations required for software development.
Business Icon Set
will make your software and web products look more modern and attractive. File formats included into the set are Windows icons, GIF and PNG images.
ArtIcons Pro
is an advanced icon-specific utility for Windows. It supports ICO, BMP, PNG, GIF, PSD, XPM, XBM, WBMP, CUR and ANI image formats and allows you to manage icon libraries.
Any to Icon
converts icons and cursors into BMP, JPG, PNG, GIF, ICO, CUR and other formats. This wizard can find icons and make images for use on Web pages.