April, 2005
Creating icons is a breeze with new Art Icons
Version 4.15 supports conversion of Mac icons to Windows format

April 11, 2005: Aha-Soft today announced the release of Art Icons 4.15. Designed for Windows OS, the application is a fully-fledged icon maker that will help you deliver professional, high-impact icons, cursors, animated mouse pointers, and other small graphics that look as if they took you days of hard work. In version 4.15 the Aha-Soft team expanded the functionality of the program with a new feature - conversion of Mac icons to Windows format. Now you can easily import any Apple icon and use it to give your desktop a trendy Mac-like look.

Art Icons features a clear, straightforward interface complete with a set of toolbars, palette, and preview pane, all placed around the design pane. Thanks to the well organized workspace, anyone, regardless of their computer competence, can learn how to create and edit icons without the user manual. The program allows designing multi-layer icons either in standard or custom sizes with the color depth up to 16 million colors. Also, you can create and edit icons for Windows XP in 32-bit color depth. Icons can be stored in icon libraries where they are easy to find and retrieve.

Art Icons provides many stylistic options to deliver icons and images that shine. To give your graphics a professional gloss, you can experiment with a range of image filters and effects including shadow, opacity, smoothness, negative, grayscale colorize, hue, saturation and color replacement. All effects are fully customizable so that you can achieve any kind of subtle design you have in your mind. Also, you can rotate or roll the image up, down, left, or right. Once, your icon or graphics have been done, you can export them to ICO, ICPR, BMP, JPEG, or PNG formats.

With Art Icons, you can quickly customize the look of your Windows desktop so that it no longer looks impersonal and dull. You can change desktop, drive, folder icons as well as icons on the Windows XP start panel. Changing icons is a breeze and can be done in a few simple clicks. You can use the program to create your own icons, edit existing ones and import your favorite Mac icons to Windows format which you can quickly do after reading our tip at http://www.aha-soft.com/faq/mac-icons-to-win.htm.

Art Icons key features
Supports conversion of Mac icons to Windows format;
One tool designed to create, edit, extract, convert and manage icons;
Pixel-by-pixel image building/editing;
Support for a wide range of graphic industry formats;
Point-and-click simplicity.
Availability and Pricing
Art Icons Pro is compatible with Windows 95/98/ME/2000/XP/2003/NT 4.0 and costs $39.95 (USD) for a single-user license. Registered customers are entitled to free updates and lifetime technical support. A 30-day fully-functional evaluation version of the program is available for free at http://www.aha-soft.com/downloads/aipro.exe.

Aha-Soft for Educators
Aha-Soft is dedicated to providing educational institutions with our cutting-edge products and technologies. In keeping with this mission, the company has introduced a special offer that will allow academic institutions to utilize Art Icons 4.15 free of charge. This offer is available for university departments, academic departments and labs. Contact us today at http://www.aha-soft.com/support.htm.

About Aha-Soft
Aha-Soft is an information technology company that was founded in 2000 by software engineer. We specialize in developing image processing software for professional and amateur designers. Our flagship line of icon and cursor tools features innovative software design which is consistently recognized by top Internet download sites including ZDNet, TuCows and Simply the Best. For more information, please visit http://www.aha-soft.com.

# # #

AN EVALUATION COPY IS AVAILABLE UPON REQUEST

Postal address: Pacific Business Centre, Att: Aha-Soft #101 - 1001 W.
Broadway Suite 381, Vancouver, BC V6H 4E4, Canada.

Product page link: http://articonspro.com
Download link: http://www.aha-soft.com/downloads/aipro.exe
E-mail: http://www.aha-soft.com/support.htm
Web: http://www.aha-soft.com


Other press-releases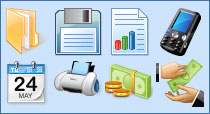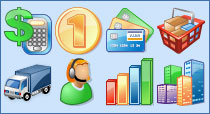 IconLover
is our pick. It allows you to design and edit all kinds of graphics required in the software development cycle, including icons, static and animated cursors and interface elements - all these graphics can now be designed in a single application.
Toolbar Icon Set
. A collection of practical and eye catching Windows icons representing all basic operations required for software development.
Business Icon Set
will make your software and web products look more modern and attractive. File formats included into the set are Windows icons, GIF and PNG images.
ArtIcons Pro
is an advanced icon-specific utility for Windows. It supports ICO, BMP, PNG, GIF, PSD, XPM, XBM, WBMP, CUR and ANI image formats and allows you to manage icon libraries.
Any to Icon
converts icons and cursors into BMP, JPG, PNG, GIF, ICO, CUR and other formats. This wizard can find icons and make images for use on Web pages.