Articons Pro 3.01 Review
© Oscar, PC Clubaid, 10/10/01

Time taken: 48 hours approx.

This company invited me to evaluate Articons Pro

When I first down loaded this program, I was sent a release key with instructions.Included in the instructions were the following.

1) Right-click on the message to bring up the context menu.

2) Select the Select All command there. The menu will disappear, and this message will change its color (become selected).

3) Right-click on the message body again and select the Copy command.

4) Run the application, open About dialog and press "Register" button.

5) Press the Paste Key button in "Program Registration" dialog.

6) Exit the application and restart it. If you find your name under the 'licenced to:' string, this means that all shareware restrictions have been disabled.

That instruction is included in the full email, along with the registration key, so look out all you novices, some publishers don't go right back to the beginning when it comes to thinking about early users and you are left to work out the obvious, until you remember that you can email the support team. I will tell you that only need to copy and paste the key, not the whole document.

To make matters worse, the release key they sent for Pro stated the following.

"It is planned that this key will work with all 3.xx versions of the program"

So I down loaded 3.01 to see the difference between the two and it didn't register it.

When I emailed them to ask what was wrong, they said I had the wrong key for that version

HELLO, was I missing something?

ON TO EVALUATION OF ARTICONS PRO.

Given that the registration key problems are sorted out and you are sent the correct one; Registration is a little confusing as it asks you to register when you start the application, you paste the key but DON'T enter a name as you think you should, this is important as your details are built into the key, this should have been pointed out in the instructions.

To edit an icon from your system was simple, as is editing in free programs such as "Icon edit" or "E icons."

So what set's this program apart from the likes of the others and is it worth spending money, as opposed to downloading a freebie.

Well, for a start, it's nicer than most of the tacky cheap ones and it runs well.

And for all the functions it has, it's extremely good on resources.

Articons file associations span a wide range and I particularly liked the "Roll" feature, where you can move your icon / image out of screen and the right half comes in at the left side.

It doesn't seem to differ all that much from the standard 3.01 version , then again, the build dates are the same as are the version numbers.

The only real first look difference between the two is the word Pro, but when you get into the tools that Pro has, this program is really one on it's own.

The colours choice is excellent and there are enough tools in Articons pro to repair your car engine with.

SUMMARY

SO WOULD I RECOMEND ARTICONS PRO?

Registration was a little difficult but the support was on the ball, I see as I find, that said, I was asked to review it.

To the every day, stay at home P.C user, well, not the Pro version.

Articons 3.01 would be more than enough for them, but definitely to the advanced user like programmers, CD builders and web site enthusiasts.

This is an icon tool made serious. It's nice to use, easy to handle, even for a novice, but has all the right bits and pieces in all the right places for Mr or Mr's Get serious.

Assuming you have no problems with obtaining the full version, as we had some minor problems, I will give this program 9/10.


Other reviews
Press-releases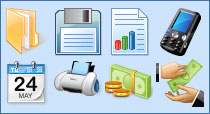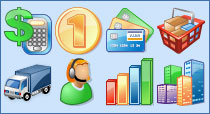 IconLover
is our pick. It allows you to design and edit all kinds of graphics required in the software development cycle, including icons, static and animated cursors and interface elements - all these graphics can now be designed in a single application.
Toolbar Icon Set
. A collection of practical and eye catching Windows icons representing all basic operations required for software development.
Business Icon Set
will make your software and web products look more modern and attractive. File formats included into the set are Windows icons, GIF and PNG images.
ArtIcons Pro
is an advanced icon-specific utility for Windows. It supports ICO, BMP, PNG, GIF, PSD, XPM, XBM, WBMP, CUR and ANI image formats and allows you to manage icon libraries.
Any to Icon
converts icons and cursors into BMP, JPG, PNG, GIF, ICO, CUR and other formats. This wizard can find icons and make images for use on Web pages.