ArtIcons Pro - Version 3.22
© by Joe Nuvolini, nuvo@earthlink.net



Ever searched around for just the right icon to associate with a shortcut on your desktop? Well look no more. You can build your own with AHA-SOFT's ArtIcons Pro. ArtIcons is an advanced icon editor for Windows. It allows one to create and\or edit iconimages and manage icon files and libraries. You can create icons in standard or custom sizes and in colordepths up to 16 million colors. The standard sizes range from 16x16 up to 64x64. However, with custom selected, you can set height and width as desired. Color choices range from monochrome to 32bit color.


The program resembles a paint program with a grid over-lay. It has many tools similar to a paint application. It has a color pallet on the right side from which you can select the color you wish to work with. On the left are the set of tools. Among them are a Selector, Color Picker, Eraser, Airbrush, Pencil, Paint Brush, Flood Fill, Text, Line, Curved Line, Rectangle, Ellipse, Rounded Rectangle (both empty and color filled for the last three), and 3D Frame. There are also a number of tools across the top of the work area to help you with your icon design. The most significant of these are the zoom in and out and a set of arrows which allows you to move your design up/down/left/right within the work area.

With the tools available, you can design most any icon one would need. The system requirements for this program are Windows 95/98/ME/2000/NT/XP, 16Mb RAM, Pentium 133 MHz or greater, 2Mb hard drive space, and True Color Video mode.

There are two versions, regular and pro. The regular version would be sufficient for most. To see the features in each version, visit http://www.aha-soft.com/articons/index.htm then make your own decision. Next go to: http://www.aha-soft.com/download.htm to download the trial ver-sion you want. The regular version sells for $19.95 while the pro is $29.95. You can also get the pro version on CD for $39.95. If you have the regular version and want to upgrade to the pro version, the cost is $14.95. To place your order visit: http://www.aha-soft.com/articons/reg.htm.

Other reviews give ArtIcons high marks. TuCows gives it 5 cows. Paul's Picks, SoftList!, and FileHungry! give it 5 stars.


Other reviews
Press-releases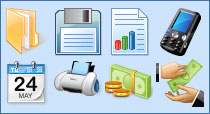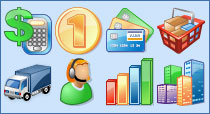 IconLover
is our pick. It allows you to design and edit all kinds of graphics required in the software development cycle, including icons, static and animated cursors and interface elements - all these graphics can now be designed in a single application.
Toolbar Icon Set
. A collection of practical and eye catching Windows icons representing all basic operations required for software development.
Business Icon Set
will make your software and web products look more modern and attractive. File formats included into the set are Windows icons, GIF and PNG images.
ArtIcons Pro
is an advanced icon-specific utility for Windows. It supports ICO, BMP, PNG, GIF, PSD, XPM, XBM, WBMP, CUR and ANI image formats and allows you to manage icon libraries.
Any to Icon
converts icons and cursors into BMP, JPG, PNG, GIF, ICO, CUR and other formats. This wizard can find icons and make images for use on Web pages.