ArtIcons 3.01 Pro Review
© Tucson Computer Society Journal, December 2001
Christopher Brozek, T.C.S. Member

ArtIcons Pro is a specialized "paint" program for creat ing, editing and managing icons used by the Windows system and applications. Images can be designed "from scratch" or imported in various formats (JPG, GIF, BMP, etc) into the editor. To test this, I saved the 200 by 176 pixels logo from the T.C.S. home page into a GIF file and imported it into the standard 32 by 32 pixels icon template in ArtIcons. With this icon I created a desktop shortcut to the T.C.S. home page. It didn't look too cool. The original image got crudely simplified. It took a bit of additional trial and error editing in ArtIcons to make it look nice on my desktop.

The program provides a complete set of standard "paint" tools: pen, brush, eraser, etc. But, to judge how the icon will look on the desktop or in an application, one has to use imagination when painting the individual pixels on the template grid which is several times the size of the actual icon. Squinting while editing the grid helps (an actual size miniature in the editor shows the result, but only after an operation, such as airbrushing, is completed).

The second function of ArtIcons is the management of icons: extracting icons from programs and library files and combining individual icon images into libraries. In Windows, icons usually (but not only) reside in files with extensions EXE and DLL. For the kick of it I extracted all icons living in my Windows ME folder and its subfolders. The program harvested 2097 icons (563 of which turned out to be duplicates, but an option in ArtIcons allows the deletion of dupes from the resulting icon library). Now, for example, I could right-click any desktop shortcut (except system shortcuts), then left-click Properties, Change Icon, Browse, Open an icon library and visually pick any icon from the collection. A special function is provided for customizing Windows system icons such as My Computer, Empty and Full Recycle Bin, Open and Closed Folder, etc, which, unlike the icons for normal shortcuts, are not accessible through the Properties dialog. All that works smooth and fast.

Altogether I was impressed by this sleek little applet and so far had no problem playing with it on Windows ME and 2000. One intriguing feature I wasn't able to check out, though, is the handling of the "smooth" 32-bit Windows XP icons (because I don't have the XP).

Minimum system requirements according to the publisher are: Windows 95 through XP, Pentium 133 MHz, 16MB free RAM, 2MB hard drive space (my own rule of thumb is to at least double such optimistic minimums). True color (24-bit 16 million colors) video mode is recommended, but the program works just fine in lower modes (16-bit 65,000 colors and 8-bit 256 colors). After all, how many different colors can one distinguish in the little icons? Tech support is available to registered users, via e-mail only. I didn't try it, since the program is pretty intuitive and the help file entirely adequate.

To install ArtIcons Pro, download an executable setup file (about 900KB) and run it. The installation is fast and fully automatic: the only option is the choice of the program folder. ArtIcons Pro is a "trialware": after a 30 day evaluation period it can be registered for permanent use upon a payment of $29.95 (credit card, via Internet only). Is it worth it? The quality of the software seems to say "yes", but the need (or urge?) to create, modify, or just play with icons depends on the user.

You may see this review at Tucson Computer Society web site www.aztcs.org under Journal.


Other reviews
Press-releases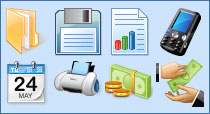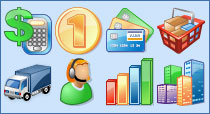 IconLover
is our pick. It allows you to design and edit all kinds of graphics required in the software development cycle, including icons, static and animated cursors and interface elements - all these graphics can now be designed in a single application.
Toolbar Icon Set
. A collection of practical and eye catching Windows icons representing all basic operations required for software development.
Business Icon Set
will make your software and web products look more modern and attractive. File formats included into the set are Windows icons, GIF and PNG images.
ArtIcons Pro
is an advanced icon-specific utility for Windows. It supports ICO, BMP, PNG, GIF, PSD, XPM, XBM, WBMP, CUR and ANI image formats and allows you to manage icon libraries.
Any to Icon
converts icons and cursors into BMP, JPG, PNG, GIF, ICO, CUR and other formats. This wizard can find icons and make images for use on Web pages.