Software Review: IconLover
Reviewed by: Janet Conner
Source: Manatee Computer News, January 2003

IconLover is a utility that allows users to extract icons from any file, create and manage icon collections and icon libraries. The program can quickly scan folders or entire drives for files that contain icon images in a variety of formats including .ico (the most common) .cur, .ani, .exe, .icl, .nil, .ocx, .vbx, .dpl and .bpl. Once the images are found, they can be extracted and arranged into libraries, and once you create libraries, the images can be manipulated in different ways. For example, you can export individual icons, rearrange icons within the library, export multiple icons to a single image file, automatically delete duplicate icons, and more. IconLover also imports into collections raster and vector images (bmp, jpeg, phg, gif and wmf formats). It makes icons as large as 255x255 pixels.

In addition, IconLover has the ability to customize Windows icons that cannot be changed using the standard Windows tools. This feature enables users to change or colorize the default icons that Windows uses to display My Computer, Recycle Bin, Internet, Start menu items, and shortcuts. With it you can also change the desktop icon size and color resolution without altering the monitor settings.

This program is easy to use, and includes a good help file. Although I have little need to create icons, changing the size and colors of those on my desktop was quick and fun. For creating icons, a grid is used, and by filling the blocks with colors, the image is made. Allow for some time for this activity unless you are used to drawing in block style. Free icon images available from the web can be recolored and customized to the desired size. You can also alter the image by adding to or subtracting areas of color blocks. In addition to using the icons on the desktop, they can be used to decorate a personal or business web page, or be used in an instant messaging application.

If you are interested in making and storing icons, this is an inexpensive and handy program to use.

System Requirements: Win 95/98/ME/2000/NT/ XP, 16 MB RAM, Pentium Processor 133MHZ, 8MB hard drive space.

The program is shareware and is available for a free 30 day trial, after the trial cost is $19.95. Made by Aha-Soft, and available by download from www.aha-soft.com/download.htm.


Other reviews
Press-releases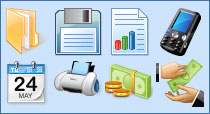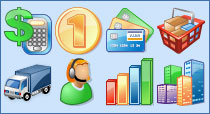 IconLover
is our pick. It allows you to design and edit all kinds of graphics required in the software development cycle, including icons, static and animated cursors and interface elements - all these graphics can now be designed in a single application.
Toolbar Icon Set
. A collection of practical and eye catching Windows icons representing all basic operations required for software development.
Business Icon Set
will make your software and web products look more modern and attractive. File formats included into the set are Windows icons, GIF and PNG images.
ArtIcons Pro
is an advanced icon-specific utility for Windows. It supports ICO, BMP, PNG, GIF, PSD, XPM, XBM, WBMP, CUR and ANI image formats and allows you to manage icon libraries.
Any to Icon
converts icons and cursors into BMP, JPG, PNG, GIF, ICO, CUR and other formats. This wizard can find icons and make images for use on Web pages.