Software Review: Articons Pro
Reviewed by: Stanley Hirsh, SWIPCC Member
Source: Throughput, February 2003


Often I find that the best things really do come in the smallest packages. In this case it is works of art. Or maybe it is just miniature pictures. But I do mean small. These little jewels are probably about the smallest, lowest resolution pictures you've seen. Most of us don't even think of them as art. Every once in a while, we'll see an especially nice one, but rarely give it much thought. Yet there was a time, not so long ago, when they didn't exist.

I'm talking about Computer Icons. We see them on our computer desktop every time we use our computer. We take them for granted, and we've resigned ourselves to the ones provided. We're stuck with the ones that came with programs, or use the generic ones that come with our operating system. Rarely do we venture out to seek new ones. After all, they're only created by programmers at great software companies. Aren't they? Well, that was once the case. Only expensive programming tools came with methods of creating Icons. And lets face it; most of the Icons that programmers create are quite crude. Not much better than stick figures. Sadly, we're happy with a good program or application even if it has an ugly Icon, or uses one of the generic Icons.

Luckily we don't have to stick with the Icons provided with a program or application, and can choose from a number of other Icons. After a while, I get sick of seeing the same old Icons used over and over. And they aren't even the treasures of which I speak. In the past I've seen a few Icon editing utilities, but they tend to be about as useful as binary is for balancing a checkbook. They'll work, but it takes a lot of effort for little return. It is no wonder why most Icons are just poor cartoons. Programmers are interested in getting the job done and provide an Icon as necessary. Once you've had a hand at creating some really stunning Icons, you won't look back. You don't even need to be a programmer or software developer to want this software. In fact, you don't even need to know anything about programming or image editing to enjoy using it.


Articons by Aha-Soft, works with Windows XP, NT4, ME, or 9X. It requires 2MB of free disk space, and 16MB of RAM. The best part is that it is available as Shareware with a 30-day trial. The Standard version is $19.95 and the Pro version is only $29.95. Version 3.25 features multiple language support so those of us who want to use a language other than English can start using it just as quickly. It is very friendly and easy to use. If you've ever played with an image editor, or paint program, you'll be right at home and not be looking for an instruction manual. The software is so intuitive that even if you haven't worked with images before, you'll think you can do anything without reading a manual.

The great thing about Articons is that you don't have to start with a blank anything. You can start off with other Icons. Articons can import and edit Icons from applications and even .exe files. It has many powerful creation tools if you want to paint your own. What is really exceptional is that Articons can import most of the common image files such as .bmp, .gif, .jpg, .psd, .wmf, .ico, etc. Articons can also export Icons in most of these formats as well. One exception I found is that it did not recognize a .TIF image file. You can create Icons in standard 32X32 or 48X48 sizes or even specify custom sizes. I like the 64X64 format. It works with the standard color depths up to 16 Million colors (True Color). Windows XP users can create 32-bit Icons with 8-bit Alpha-channels, drop shadows and smooth effects.

Since I'm not using Windows XP, I can't tell you how good this looks, but if it works as well as the rest of the effects, it has got to be good. The program installs easily and comes up quickly. It is easy to dive right in and start using Articons. If you don't figure out something right off the bat, there is a good help menu. The first thing I did was bring in a JPEG photo that I use as my desktop wallpaper and extract a prominent feature to create an Icon. It is nice being able to select an area from a photo, and not have to use another application to trim a photo. Articons can do it for you. Once I selected the size and color depth of the Icon I wanted to create, I imported the section of the photo I wanted to use to create an Icon. Articons then sized the section to fit the Icon. It then let me roll, shift, and edit the Icon.

The next thing I like to do is eliminate the background junk by making it transparent. There are several tools available for this. I can use a spray can, a pen, a brush, or even a fill tool. The paint can fill tool worked very well on my portrait. I then went in with a fine brush tool and hit the few stray pixels that were left.

With so few pixels in an Icon, details sometimes become displaced. By rolling the image left, right, up, or down a bit, better details may become visible. For those details that need enhancing, the full artist toolbox really helps. A square eyeball won't look so bad if it is toned down a shade or two. Maybe even moving it one pixel can make a real difference.

Altering and coloring images is very easy. Articons even allows Undo of changes and shows a preview of the Icons as changes are being made. It is interesting how much better an Icon can look when it is reduced to its final size compared to the giant image being edited. Doing something that actually looks worse on the large image can sometimes improve the Icon being created when seen in a more normal size.

Once an Icon is created, or even along the way, it can be saved or exported. Several Icons can be loaded and be edited randomly by selecting them by tabs along the top under tool bar. This is useful for creating a whole set of Icons of different sizes and color depths. If a complete set of 9 Icons is created with 3 sizes and 3 color depths per size, then it is possible to display the Icon at any screen resolution.

Not only can images be edited, there are all sorts of line and text tools as well. Once Icons are created they can be saved alone, or in libraries of Icons. Articons will let you add, remove, and move Icons between libraries. You can split Icon libraries into individual Icon files, or even split Icons into smaller Icons. The real magic is when one of those Icons is out there on the desktop. The detail can be astounding, a real work of art. I guess that is why they call it Articons. Now that old recycle bin can look like something, even have a few flowers on it. Put that self-portrait Icon on the web page. Now when it is added to the favorites, it won't just have an "e" it will have your picture there.

To make your CD's more professional, create a text file with notepad. Type in the following:

[autorun]
icon=myicon.ico

Save the file as autorun.inf and put this file and the Icon you want to use (myicon.ico) in the root directory. Whenever the CD is inserted, the Icon will appear as the drive. You can even do this for your hard drive partitions and you won't have to look at the same old drive Icon for each of your drives or CDs.


The Articons program isn't a very big download and is quite a full-featured software tool. It is a lot of fun to use and can really perk up your applications and desktop. Once you've played with it, you will find yourself creating all sorts of Icons just for the heck of it. And when you place those little works of art on the desktop, see them on the Taskbar, or even pop-out in a folder, you'll say, "Oh yeah…Aha! I wonder if that is why they named the company Aha- Soft?"

Like Articons, Aha-Soft is intuitive, so their website can be found at (you guessed it) http://www.aha-soft.com.
Other reviews
Press-releases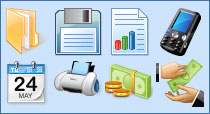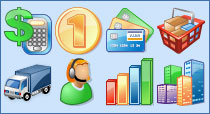 IconLover
is our pick. It allows you to design and edit all kinds of graphics required in the software development cycle, including icons, static and animated cursors and interface elements - all these graphics can now be designed in a single application.
Toolbar Icon Set
. A collection of practical and eye catching Windows icons representing all basic operations required for software development.
Business Icon Set
will make your software and web products look more modern and attractive. File formats included into the set are Windows icons, GIF and PNG images.
ArtIcons Pro
is an advanced icon-specific utility for Windows. It supports ICO, BMP, PNG, GIF, PSD, XPM, XBM, WBMP, CUR and ANI image formats and allows you to manage icon libraries.
Any to Icon
converts icons and cursors into BMP, JPG, PNG, GIF, ICO, CUR and other formats. This wizard can find icons and make images for use on Web pages.