ArtIcons Pro by Aha-Soft


Reviewed by Ken Larrabee

ARTICONS is a very nice icon/cursor art generator for home or professional use and the professional software is available on the Web from aha-soft for $29.95.

The software is a very simple and effective program for generating, changing and managing icon, cursors and similar type files. The program as noted above is available by download and no special talent is needed for that process, nor is there any problem registering the software if you follow the directions on the separate e-mail "key" letter. There are no special computer requirements for operating the program and just about any Pentium model or equivalent will be just fine.

When the program is opened, a default mode is displayed which lets you set icon density as you see fit. From there on the display is almost instantly recognizable and easy to operate. The page shows a blank icon at the density you specified at start up. The tools are the old standbys and are similar to operate as in MS Paint plus a LOT more that are easily recognized and just as easily used.

The standard "dropper, sprayer, line, square, circle, oval, paintbrush, etc." are all there and work as you would expect, but that's only the start. Once you have an image drawn, copied, or otherwise placed on the icon you have a great number of other things you can do. Rotate, roll, bevel, shadow, roll, flip, gradient fill and a number of other working elements are available to adjust the art or create it on the icon. Available too is the ability to transfer most any picture format to the top of the icon. I tried resizing a picture from my digital camera and placing it on the icon and found that the operation is completed in the standard copy/paste mode. If you have the need for multiple pictures on an icon, it's also easy to place a picture, etc. on the work area of the icon and resize it as needed. Clearly, this will give you the capability to use multiple pictures, logos or whatever on an icon top. Once you have what you think you want, it's easy to switch the view to actual size to see what your button looks like.

The software is so easy and intuitive to operate there is little to say about it. Just about any artwork can be integrated with the icon. It is also pretty obvious that the development of this program was based on some pretty serious frustrations in icon construction, since they all seem to have been addressed in a highly professional and easy-to-operate manner. It is worth mentioning that the type of files generated for input or output are widely supported and exchanging file types was no problem at any time.

It seems to me, that if you have the need to operate, develop, construct or store this type artwork, that this is the software of choice. Count this one as HIGHLY RECOMMENDED!



© Ken Larrabee


Other reviews
Press-releases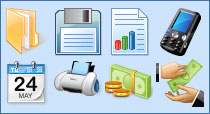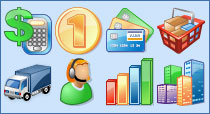 IconLover
is our pick. It allows you to design and edit all kinds of graphics required in the software development cycle, including icons, static and animated cursors and interface elements - all these graphics can now be designed in a single application.
Toolbar Icon Set
. A collection of practical and eye catching Windows icons representing all basic operations required for software development.
Business Icon Set
will make your software and web products look more modern and attractive. File formats included into the set are Windows icons, GIF and PNG images.
ArtIcons Pro
is an advanced icon-specific utility for Windows. It supports ICO, BMP, PNG, GIF, PSD, XPM, XBM, WBMP, CUR and ANI image formats and allows you to manage icon libraries.
Any to Icon
converts icons and cursors into BMP, JPG, PNG, GIF, ICO, CUR and other formats. This wizard can find icons and make images for use on Web pages.