ArtIcons. A Software Review
© Vinny Labash, Systems Engineer, IBM Corporation, pcug@home.com

Can you really say you have complete control of your desktop without personally customizing your icons? Why not create and edit your own icons in whatever size you want? ArtIcons provides all the tools you need to do exactly that.

Wherever you stand in the expertise spectrum, ArtIcons was designed with you in mind. ArtIcons is an advanced icon utility for Windows that allows professional and amateur graphic artists alike to create and edit icon images and manage icon files and libraries.

Icon management can be a real pain if you have lots of icons in your PC and can't find the one you want when you want it. Finding and managing icon libraries has gotten a lot simpler with ArtIcons. You get to scan files and folders for icons, delete duplicate icons, and arrange icons into libraries using drag and drop.

ArtIcons opens by offering you a series of icon sizes to work with. You can start with an icon size 16 x 16 pixels and work your way up to 64 x 64 if you like to work with more detailed images. You can roll your own custom size if the standard measurements don't meet your needs or approval. After selecting your icon's size, you get a blank canvas. ArtIcons contains a variety of paint tools and color palettes to let you create and edit icons with image formats in either standard or custom sizes in color depths up to 32-bit True Color. If you find a blank canvas intimidating, you can import icons not only from icon files, but from files of almost any format. If you're moving to Windows XP, have no fears.

The latest release of ArtIcons supports the XP icon format. You can take an image that was created in JPG, JPEG, GIF, BMP or almost any other icon format and transform it into an icon with ArtIcons by simply opening the file into the program. It even works with photographs, but a lot of detail is lost. Try it anyway. Sometimes the results are astounding. The program is incredibly easy to learn. The only difficulty you may have is tearing yourself away from it as you continually discover all the things it can do.

Many web sites allow you to download a trial version of the program. Before you do this, make sure that you are getting Version 3.0 or higher. This release has support for Windows XP as noted earlier. Drop shadow effects, a new user interface, and the ability to customize your default desktop icons are additional features.

The program is available from Aha-Soft at www.aha-soft.com/articons/reg.htm for $19.95. A companion program, ArtIcons Pro, is available for $29.95. The Pro version has additional capabilities that will be of interest to professional graphic artists, or to those who wish to enhance their graphic skills. Both programs come with a 30 day money-back guarantee.


Other reviews
Press-releases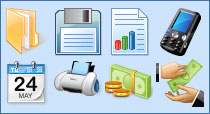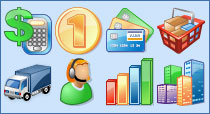 IconLover
is our pick. It allows you to design and edit all kinds of graphics required in the software development cycle, including icons, static and animated cursors and interface elements - all these graphics can now be designed in a single application.
Toolbar Icon Set
. A collection of practical and eye catching Windows icons representing all basic operations required for software development.
Business Icon Set
will make your software and web products look more modern and attractive. File formats included into the set are Windows icons, GIF and PNG images.
ArtIcons Pro
is an advanced icon-specific utility for Windows. It supports ICO, BMP, PNG, GIF, PSD, XPM, XBM, WBMP, CUR and ANI image formats and allows you to manage icon libraries.
Any to Icon
converts icons and cursors into BMP, JPG, PNG, GIF, ICO, CUR and other formats. This wizard can find icons and make images for use on Web pages.