IconXP Review
© Nick Smith, RocketDownload.com
Source: www.rocketdownload.com/details/icon/iconxp.htm

IconXP is an icon editor for the very latest versions of Windows. You can create standard and custom sized icons in color depths of up to 16 Million colors. Notably, the program supports icons in 32-bit color with 8-bit alpha channel, which is used in Windows XP. IconXP allows you to find and extract icon files on your computer and import them for editing. It's great for customizing desktop, folder and system icons that are normally hard to modify. In fact, you can edit the default icons for My Computer, Recycle Bin, system folders, Start Menu items and more.

You'll find a full featured editor for creating attractive icon files. You can start from scratch or import multiple standard image files (BMP, JPEG, etc.) and convert them into an icon format. There's also an excellent screen capturing tool. You can then use a complete toolset for drawing, brushing, selecting and color picking areas of the icon. You can also apply text and a variety of shapes. IconXP includes a full color palette for using a precise assortment of colors. IconXP offers advanced gradient and chess fill options, and lets you apply drop shadow, smooth and negative effects. Files may printed and saved to disk as icon (ICO) file or in six other standard graphics formats.

This shareware version is fully functional, but expires after 30 days.


Other reviews
Press-releases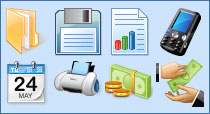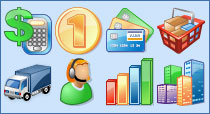 IconLover
is our pick. It allows you to design and edit all kinds of graphics required in the software development cycle, including icons, static and animated cursors and interface elements - all these graphics can now be designed in a single application.
Toolbar Icon Set
. A collection of practical and eye catching Windows icons representing all basic operations required for software development.
Business Icon Set
will make your software and web products look more modern and attractive. File formats included into the set are Windows icons, GIF and PNG images.
ArtIcons Pro
is an advanced icon-specific utility for Windows. It supports ICO, BMP, PNG, GIF, PSD, XPM, XBM, WBMP, CUR and ANI image formats and allows you to manage icon libraries.
Any to Icon
converts icons and cursors into BMP, JPG, PNG, GIF, ICO, CUR and other formats. This wizard can find icons and make images for use on Web pages.