Icon Empire Makes Icons for Socializing


December 17, 2010 Icon Empire announces the release of Social Web Buttons, a library of ready-made graphics for integrating Web sites with popular social networks. The collection of social icons supplies buttons representing common social networks such as Twitter, Facebook, MSN, AOL, YouTube, and several others, as well as a number of navigation elements. The entire library is available for $39.95.




With Social Web Buttons, Icon Empire offers Web designers a quick and easy way to integrate with common social networks. Including icons depicting all popular social networks such as those provided by Yahoo, MSN, AOL, Apple, Google, Facebook, Twitter, ICQ and others, Social Web Buttons can be used on many Web sites. In addition, Social Web Buttons provide a number of navigation elements such as Home, Left, Right, Smile, Mail, Message, Link, Friend, Star, Flag, Follow, Unfollow, and so on. The collection includes 68 unique images assembled into a matching set. All icons are supplied as full-color PNG files available in sizes of 512*512, 256*256, 48*48, 32*32, 24*24, and 16*16 pixels, with optional vector sources in Adobe Illustrator format available for a fee.

Social Web Buttons are offered as a royalty-free collection. The images are immediately available with full online previews.
Pricing and Availability
The entire set of 68 Social Web Buttons is immediately available for $39.95. The collection is royalty-free, and comes with a full free preview. Once purchased, Social Web Buttons can be used in multiple projects without extra licensing.
About the Company
Established in 2000, Icon Empire offers Web designers, developers and end users with contemporary graphics. The company provides thousands of individual images and dozens of matching sets. Icon Empire offers graphics design services upon request.

# # #

Social Web Buttons come with full online preview at www.iconempire.com/web-buttons/social-web-buttons/

Postal address:
Pacific Business Centre,
Att: IconEmpire, #101 - 1001 W. Broadway,
Suite 381, Vancouver, BC V6H 4E4, Canada
Fax and voice mail: +1 (206) 338-6423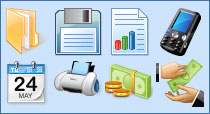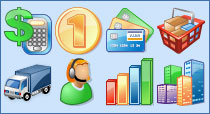 IconLover
is our pick. It allows you to design and edit all kinds of graphics required in the software development cycle, including icons, static and animated cursors and interface elements - all these graphics can now be designed in a single application.
Toolbar Icon Set
. A collection of practical and eye catching Windows icons representing all basic operations required for software development.
Business Icon Set
will make your software and web products look more modern and attractive. File formats included into the set are Windows icons, GIF and PNG images.
ArtIcons Pro
is an advanced icon-specific utility for Windows. It supports ICO, BMP, PNG, GIF, PSD, XPM, XBM, WBMP, CUR and ANI image formats and allows you to manage icon libraries.
Any to Icon
converts icons and cursors into BMP, JPG, PNG, GIF, ICO, CUR and other formats. This wizard can find icons and make images for use on Web pages.