---
Software for Icon Design
August 20, 2014

In need to create or edit an application icon, software icon, toolbar icon, or website icon?

AHA-SOFT software can help you edit icons for your identity. It is important to create icons that are representative of your identity because they are effective in driving traffic online. When editing or creating an icon, simplicity, size, style, and audience are taken into account. AHA-SOFT software will help you achieve all these in creating your website, application or toolbar icons.

AHA-SOFT has variety of software products and stock icon sets for icon design. The software reduces the time normally taken by icon creators in creating their icons. With these software products, you can convert icons with ease to create your favorite ones. You can edit application, website, or toolbar icons.

Among AHA-SOFT products, there is IconLover product as an icon editor. It helps you edit and manage icons with ease. You can modify, import or export icons. The product is compatible with JPEG, WMF, CUR, ANI, XPM, SVG, XBM, ICO, MBP, AI, PSD, TGA, TIFF, and WBMP. The software helps you to attract customers with beautiful icons custom made by you. Thus, you will be making your website unique with IconLover.




IconLover



Moreover, you can convert icons between operating systems. For example, you can convert between Mac OS and Windows OS. It also doesn't matter what the size of your icons is. This software will easily help you edit them or convert them from one operating system to the other.



AHA-SOFT software products further help you to create icons from existing images. The software Any to Icon is an image converter. You can edit icons using existing images, and you can combine a collection of icons into single icons. This software product also accommodates all sizes of icons like IconLover. It helps you convert icons quickly from photos or picture files.

Improve the appearance of your applications and websites with stock icons from AHA-SOFT software products. Remember that impression counts in order to get more traffic online. These ready-made sets helps you get icons for your applications and websites to enhance them. You can improve Android, Mac, iOS, and Windows apps.


Color Flat Icons

Save time and enhance your website with AHA-SOFT software icon design. This service will make your website standout from the crowd with unique icons. Beautifully and effectively created and edited icons help catch the visitor's eye and can also decrease the bounce rate and improve conversion rate on your website.


Probe icon by Aha-Soft
Other press-releases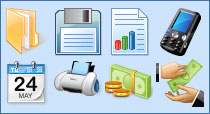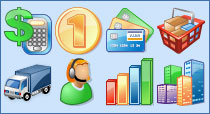 IconLover
is our pick. It allows you to design and edit all kinds of graphics required in the software development cycle, including icons, static and animated cursors and interface elements - all these graphics can now be designed in a single application.
Toolbar Icon Set
. A collection of practical and eye catching Windows icons representing all basic operations required for software development.
Business Icon Set
will make your software and web products look more modern and attractive. File formats included into the set are Windows icons, GIF and PNG images.
ArtIcons Pro
is an advanced icon-specific utility for Windows. It supports ICO, BMP, PNG, GIF, PSD, XPM, XBM, WBMP, CUR and ANI image formats and allows you to manage icon libraries.
Any to Icon
converts icons and cursors into BMP, JPG, PNG, GIF, ICO, CUR and other formats. This wizard can find icons and make images for use on Web pages.