Customize Software and Web Sites with Icons Made to Order
Does your software have an image? That unique style and feel? If it does not, you are missing the boat! Custom-made is today's theme in this trendy world. Please your customers with a visual eye-candy by giving a unique image to your software product!


What do you need to create a style? Curved windows and buttons escaping or sticking the mouse? Not really. A good standard user interface is way more convenient to use and, unlike those trendy things, will keep your users happy for years to come. How can you make your product stand out without violating the Guidelines for User Interface Design? In a word, how can you make your product please the eye without those crappy 'skins'?

Professional graphics and stylish icons are the answer. We're not talking about parrot-style icons found in many freebee apps. We're not mentioning a gazillion products with many icons, each obviously borrowed from some place other than the rest of the pack. We're about to discuss real quality icons to make your product look better and more professional instead of doing the opposite.

Designing your own icons is a great way to produce a unique application with a consistent style. By making your own graphics, you are giving your product the necessary personal touch, distinguishing it among thousands of others. But what if you can't draw? Even worse, what if you already called a professional designer in your area only to get shocked by the quote?

Relax. We can design good graphics for you. Aha-Soft specializes in graphic design for software and online applications. You can see hundreds of icons designed by our company at www.aha-soft.com/iconlibs.htm , and we are ready to do the same quality work just for you!

Our prices are humane, starting at just $10 for a smallest icon, but don't go any higher than $65 for the entire set of images in 8 standard sizes and color resolutions from 16x16 and all the way up to 256x256 pixels. We can make you unique toolbar icons, icons for site navigation, favicons and ready to use logotypes in sizes up to 256x256 pixels.

Hold onů what if you need, say, fifty icons for your new product? Is it five hundred dollars for just the smallest size? Not really! Aha-Soft offers you a variety of readily available icons to choose from at www.aha-soft.com/iconlibs.htm. You can pick a set of several hundred images for less than a hundred dollars, and only make one or two custom icons to add that final touch!


Click here to order custom icons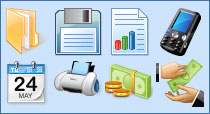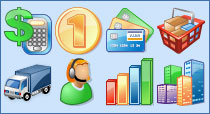 IconLover
is our pick. It allows you to design and edit all kinds of graphics required in the software development cycle, including icons, static and animated cursors and interface elements - all these graphics can now be designed in a single application.
Toolbar Icon Set
. A collection of practical and eye catching Windows icons representing all basic operations required for software development.
Business Icon Set
will make your software and web products look more modern and attractive. File formats included into the set are Windows icons, GIF and PNG images.
ArtIcons Pro
is an advanced icon-specific utility for Windows. It supports ICO, BMP, PNG, GIF, PSD, XPM, XBM, WBMP, CUR and ANI image formats and allows you to manage icon libraries.
Any to Icon
converts icons and cursors into BMP, JPG, PNG, GIF, ICO, CUR and other formats. This wizard can find icons and make images for use on Web pages.